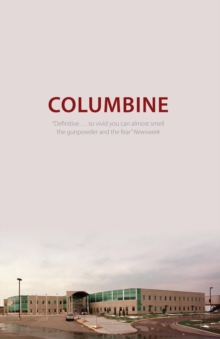 Description
<div>On 20th April 1999, Eric Harris and Dylan Klebold made their bid to leave 'a lasting impression on the world'.
They drove to school, planted two huge bombs in the dining area, then positioned themselves outside the main entrance to pick off the fleeing teachers and students.
The bombs failed, but the ensuing massacre defined a new brand of school violence - one that has started to cross the Atlantic.
In the tradition of Truman Capote's In Cold Blood and almost ten years in the making, Columbine is the definitive account of those terrible events.
Cullen lays bare the callous brutality of mastermind Eric Harris, and the timid, suicidal Dylan Klebold, who had been to the prom just three days earlier and wrote obsessively about love in his journal.
A close-up study of violence, grief and an all-consuming media frenzy, Columbine is above all a compelling, tragic and utterly human portrait of two young killers.</div>
Information
Format: Paperback
Pages: 427 pages
Publisher: Old Street Publishing
Publication Date: 20/04/2009
Category: True crime
ISBN: 9781906964146
Other Formats
eAudiobook MP3 from £20.96
Free Home Delivery
on all orders
Pick up orders
from local bookshops
Reviews
Showing 1 - 4 of 4 reviews.
Review by mjs1228
16/06/2015
Imagine you're watching a play. The play is similar to another play that you've seen before, several plays, in fact. This time there is a screen in front of the stage made of fine black gauze. You can see and here what it going on behind the gauze, when the light shines a certain way you could almost forget the gauze is there. Then the scene ends and when the curtain rises again the same scene is played again, this time without the gauze screen. The same words are spoken but in some by different characters than you thought the first time. In other cases you can see the actors' expressions completely now and the words, though the same, have an entirely different sensation.This is what reading Dave Cullen's amazing book is like. I thought I knew the story of Columbine - after all I'd seen it play out on my TV screen - but I was watching the whole thing through the gauze of misconception and insta-reportage. Cullen rips the gauze away and tells the whole story. It's not enough to say he sets the record straight, that sounds like he fixed the punctuation; This isn't a merely book, it's a revelation.When people asked me what I was reading and I answered "A book about Columbine"the usual reaction was a visual and verbal mixture of puzzlement and dismay. "Why are you reading about that" they'd ask, "hasn't that been done to death?" The simple answer is that the truth of Columbine hasn't been told until know. And when I'd puncture a few of the myths that we'd all believed to be truth - it wasn't the Trench Coat Mafia, they weren't Goths, etc - the response was "No way" followed by "I need to read this book, too."Yes, you do. This is the must-read nonfiction book of the year.Cullen spent years talking to the everyone involved who would talk to him and the result is a story that is actually more horrifying that anything reported at the time. Far from being bullied teens who fought back - and wasn't that always a bit of wish-fulfillment on the part of reporters and viewers alike? - this is the story of a clinically depressed teenager in the hands of a teen-age psychopath. Eric Harris, the psychopath in question, is exponentially more terrifying than science fiction monster for the simple reason that you wouldn't invite "Alien" into your home but you'd give Eric the keys to your house to watch it while you were on vacation, all the while thinking what a nice, responsible young man he was. Meanwhile he'd be building napalm jet backpacks in your basement. Eric was misunderstood, all right, because he wanted it that way. Cullen presents one of the clearest explanations of psychopathy I've come across and the evidence for Harris being categorized as a psychopath is overwhelming.Dylan Klebold, as Cullen notes several times, is more concerned with love than hate but the whole that depression leaves in his soul is filled by Eric Harris's hate for all humanity. It's easy to imagine Dylan Klebold taking a different path. By contrast, one can only see Eric Harris committing other more heinous crimes. Was it just bad luck that led Klebold into Harris's path? Who knows? That's the point that Cullen isn't afraid to make - that no one knows what created Eric Harris or what made Dylan Klebold so vulnerable to him. It wasn't being bullied or bad parenting or video games or Twinkies or music with hidden messages or any other stock, easy answer.Cullen does find heroes and villains and mixtures of both. The families of the murdered react in different ways, from painful to witness hatred to self-destruction. The community reacts with compassion, understanding, exploitation, fatigue and finally ambivalence. I thought Cullen did an especially sensitive job of dealing with the role spirituality and faith played in the healing process. For some their faith allowed them to accept the tragedy with a peace reminiscent of the Amish school shooting. Others are moved by their faith to reach out the parents of Harris and Klebold only to find their actions denounced by others of the same faith. Yes, there are some who wittingly or not exploit the tragedy in the name of their religion and Cullen calls that out, too but this is a balanced portrait.This is one of the best non-fiction books of the decade. The reporting is excellent and the writing is even better. Anyone who enjoys thoughtful non-fiction and/or wants to better understand the society we live in should make it a point to read this book.And if Mr Cullen doesn't have a stack of awards on your shelf for this book by this time next year then I will lose all faith in book awards.
Review by Suva
16/06/2015
The ten years of research and on-the-ground reporting show in this beautiful piece of journalism. Columbine's comparisons to In Cold Blood are justified, especially due to the intricate and detailed prose style, but above all this is Cullen's empathy for the victims of the tragedy.A book that manages to be both important and well written, the only downside is that the kind of shooting it documents are still going on and are in many ways getting worse.
Review by DeltaQueen50
16/06/2015
Columbine by Dave Cullen is an intense, close look at the events that unfolded at Columbine High School in April of 1999. An enormous amount of research, interviews and follow-up was put into this project by the author in order to give us a final, comprehensive view of this tragedy.I vividly remember following this incident on TV that day, and in the days that followed. I ended with a vague impression that 2 Goth students, fed up with being bullied, went to school that day with guns for the purpose of vengeance. I couldn't have been more wrong.Dave Cullen lays out the evidence that took him ten years to gather from a step by step outline of what Eric Harris and Dylan Klebold's mind set was that day, to the accusations of police cover-ups, to the recovery process for the survivors, and the emptiness left by those who did not survive. So many rumors swirled around in the days immediately following the massacre that it was hard for the police, the press, the families and even the students themselves to separate the fact from fiction. It took years of painstakingly working through the evidence that finally led the investigators to a resolution. There is no easy answer when violence of this nature erupts but this book goes a long way toward giving us a clearer picture of what happened and to a certain degree why it happened. Author Dave Cullen is to be commended for providing such a memorable, thoughtful analysis of this hateful event.
Review by rimbo90
23/09/2015
THE definitive book on the Columbine tragedy. Cullen is very comprehensive in his writing to the point that there is ample content and research in here.