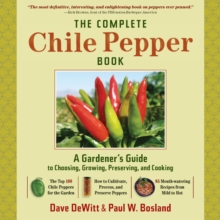 The Complete Chilli Pepper Book : A Gardener's Guide to Choosing, Growing, Preserving, and Cooking
Hardback
Description
Chile peppers are hot - in every sense of the word.
They add culinary fire to thousands of dishes from a variety of cuisines and inspire near-fanatical devotion in those who have succumbed to their incendiary charms.
In this comprehensive book, world chile experts Dave DeWitt and Paul W.
Bosland have assembled all the information that anyone with an interest in chile peppers could ever hope to find.
Detailed profiles of the 100 most popular chile varieties include information on how to grow chiles; how to diagnose and remedy problems, pests, and diseases; and, post-harvest processing and preservation.
The book culminates in 85 mouth-watering recipes that make brilliant use of both the characteristic heat of chile peppers and of their more subtle flavor qualities.
Want to know what the hottest chile pepper in the world is?
You'll find it in the fascinating story of 'Bhut Jolokia', acknowledged by Guinness World Records as the fieriest chile on earth.
Confused about the identity of those chile peppers you bought?
The authors' clear photographs and precise descriptions will clear up the mystery. "The Complete Chile Pepper Book" is the only guide to chiles you'll ever need. It's a scorcher.
Information
Format: Hardback
Pages: 336 pages, 273 color photos, 9 drawings
Publisher: Timber Press
Publication Date: 01/09/2009
Category: Cooking with herbs & spices
ISBN: 9780881929201
Free Home Delivery
on all orders
Pick up orders
from local bookshops
Reviews
Showing 1 - 5 of 8 reviews.
Previous | Next
Review by nmulvany
16/06/2015
Fantastic resource! This is a beautiful and informative book written by chile pepper experts. Also, there are some mouth-watering recipes.
Review by SqueakyChu
16/06/2015
This is the most comprehensive chile pepper book I've seen. It caught my favor right away because it had a picture and description of the malagueta pepper, a small chile pepper that grows wild in Brazil and a species which a friend of ours gathered and brought to us as a present from his country. It was fun to find this chile pepper in the pages of my book!Since I've always loved to grow a variety of hot peppers in my garden, I truly love the comprehensive advice in the gardening section. I can't guarantee I'll use all the advice, but I'll sure check back to see what I've been doing wrong with my pepper plants in the past. There is a section that has diseases and pests, which I hope only to see in the book and never on my plants.The pictures are fabulous. One section of the book names the top 100 chile peppers for the garden. It's very easy to identify the different species of chile peppers from those large, clear, and colorful photographs.For any food connoisseur, you'll be delighted to know that there are about 100 pages of mouth-watering recipes, each with a huge photograph to show you what it is you'll be making. The flavor, I'm afraid, you'll have to taste yourself.At the back of the book is an extensive bibliography, glossary and list of resources. I can't imagine any chile pepper lover who would not be able to find the answer to his question about this spicy vegetable in this book or be directed from it to the appropriate resource.There are only two quite minor things I did not like about this book. One was that the type seemed a bit small. That may be my aging eyes, though. The other thing was that I received my copy of this book in November – just as the last of my chile pepper plants died off from the cold. Now I'll have to wait until the spring to do more chile pepper gardening as I don't have anywhere to grow these plants inside my house.
Review by lorax
16/06/2015
The Complete Chile Pepper Book is likely to remain the definitive work on chile peppers for a long time to come. The book is divided into three sections: an introduction and description of various types of chiles, a detailed guide to growing chiles, and a section on preserving and cooking with chiles. The entire book is beautifully produced and clearly written and will be a useful reference for anyone interested in these wonderful vegetables.The first section classifies chiles by species; after an initial introduction to each of the five species of peppers, some of the more popular or common varieties of each are discussed. Appropriately, the bulk of this section is devoted to the most widespread species (C. annum) but the more unfamiliar species are not neglected; any chilehead should find new varieties to grow or seek out at the market from this section. I was pleased to see the Oaxacan manzano peppers that I get at the local Mexican market, and have never seen anywhere else, discussed here.I personally found the second section on growing chiles to be the most useful; it assumes some basic gardening experience, and does not discuss which varieties are well-suited for different climates, but after an initial discussion of different gardening strategies for peppers and general advice on soil composition and watering strategies it provides a comprehensive guide to potential problems with peppers and their remedies. While this guide is suitable for casual gardeners it does not stop there, including suggestions for creating new hybrid strains of peppers through hand-pollination! I will certainly refer to this section of the book on a regular basis in my continuing attempts to grow more peppers.The first part of the final section of the book discusses preserving peppers, ranging from methods as simple as drying or freezing to elaborate canning (requiring a pressure canner, as peppers are low-acid) and candying recipes. I now have a jar of my own Thai hot peppers pickling in the back of my cupboard, waiting to be ready to use. Finally, the recipes making up the last third of the book were a bit of a disappointment for me; someone coming to this book from a gardening rather than a culinary perspective would certainly find much to like here, but considered purely as a cookbook there are better options. Each recipe is illustrated, and they are clearly-written; they just aren't very exciting. (However, I've spent long enough in the Southwest that the idea of chiles in chocolate-based desserts is no longer new, or even novel enough to be noticeable, so my calibrations on this front may differ from that of the average reader.) While there are some potential gems that I have bookmarked to try, there was less attention paid to recipes to showcase a particular variety of pepper than I would have hoped, and most of the foods were those that, even if they were influenced by cuisines traditionally heavy on spices, would appeal to a fairly conventional "American" palate -- tandoori chicken, fish tacos, and the like. This section is not a net negative, but it's not reason enough to buy the book on its own.Overall I recommend this book very highly.
Review by bruce_krafft
16/06/2015
If you are a chile lover this book is for you, even if you don't plan on growing any. The first part of the book is very complete with about everything you could ever want to know about growing chile peppers, even going into depth on the various kinds of mulches. It even has a section on chile bonsai. Never had a garden? No problem. You will find information on everything from planning, planting and even disease and pest control. Already a gardener and want to know more? How about grafting or hybridization? Want to try growing your peppers using hydroponics? It's covered in this book. makes us wish that we had a sunny spot to grow chiles, maybe a hosta chile cross breed? I know probably not. Thank goodness for community supported ag! We will have to put our order in now for lots of peppers!Have you ever thought about juicing your hot bounty? Not only is there a section on using your juicer there is even a chart giving you juicing results which lets you know about how many chiles you will need for however much juice you want, and it lets you know how hot it will be. Or maybe you want to make your own chipotles?. There are recipes for chutneys, flavored oils, and even candied capsicums along with the more usual hot and spicy dishes and they are all accompanied by beautiful photographs that make you want to get into the kitchen and cook.
Review by jhedlund
16/06/2015
Everything you ever wanted to know about chile peppers coupled with sumptuous photography. First, you learn about the top 100 (yes, you read that number correctly) peppers to grow in the garden. Next up is the proper cultivation, from hydroponic, to in the ground, to containers, for the various types of peppers. Finally - gloriously - come the recipes. Here is where the book really shines. Not only are there the expected recipes for using peppers in foods, but there are also recipes for canning, pickling, drying, smoking and even making custom chile powder blends. Now, if you'll excuse me, I'm off to go get ingredients for the Kahlua, Ancho and Chocolate Fondue...