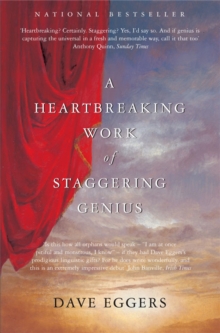 A Heartbreaking Work of Staggering Genius
Paperback
Description
'Heartbreaking? Certainly. Staggering? Yes, I'd say so. And if genius is capturing the universal in a fresh and memorable way, call it that too' Anthony Quinn, Sunday Times 'Is this how all orphans would speak -- "I am at once pitiful and monstrous, I know" -- if they had Dave Eggers's prodigious linguistic gifts?
For he does write wonderfully, and this is an extremely impressive debut' John Banville, Irish Times 'A virtuosic piece of writing, a big, daring, manic-depressive stew of a book that noisily announces the debut of a talented -- yes, staggeringly talented -- new writer' -- Michiko Kakutani, New York Times 'Exhilarating ...Profoundly moving, occasionally angry and often hilarious ...A Heartbreaking Work of Staggering Genius is, finally, a finite book of jest, which is why it succeeds so brilliantly' -- New York Times Book Review 'What is really shocking and exciting is the book's sheer rage.
AHWOSG is truly ferocious, like any work of genius. Eggers -- self-reliant, transcendent, expansive -- is Emerson's ideal Young American. [The book] does itself justice: it is a settling of accounts. And it is almost too good to be believed' -- London Review of Books 'A hilarious book ...In it, literary gamesmanship and self-consciousness are trained on life's most unendurable experience, used to examine a memory too scorching to stare at, as one views an eclipse by projecting sunlight onto paper through a pinhole' -- Time 'Eggers evokes the terrible beauty of youth like a young Bob Dylan, frothing with furious anger ...He takes us close, shows us as much as he can bear ...His book is a comic and moving witness that transcends and transgresses formal boundaries' -- Washington Post
Information
Format: Paperback
Pages: 496 pages
Publisher: Pan Macmillan
Publication Date: 21/09/2007
Category: Biography: general
ISBN: 9780330456715
Other Formats
EPUB from £7.98
Paperback from £8.59
Free Home Delivery
on all orders
Pick up orders
from local bookshops
Reviews
Showing 1 - 3 of 3 reviews.
Review by DRFP
16/06/2015
No, it's not really heartbreaking, and it's not a work of genius either. It's still a very good book however.Probably the best passages of AHWOSG occur at the start when Eggers describes the condition of his mother prior to her death. Those first 45 pages are truly excellent. The rest of the work.... Well, it varies. I'm not one for stream of conscious and sometimes Eggers over does it; on other occasions though he's very pithy and amusing. I suppose the ultimate testament to Egger's skill is the fact that he writes in such a self-knowing, self-mocking manner and successfully treads the line without becoming irritating or sounding arrogant.With the position he's come to occupy in the literary world it is perhaps easy to look back on this work and read it as the "woe is me" tale of a smug know-it-all. However, I think Egger's heart shines through here, back when he was writing this at the turn of the millennium before any real success.AHBOSG isn't an earth shattering book, but it's a good tale told very well and, I believe, an important product of its time.
Review by petterw
16/06/2015
After having read Norwegian writer Karl Ove Knausgard´s aitobiographical series "Min kamp", it was interesting (to say the least) to read Eggers´ autobiography. His approach is a bit more cautious than Knausgard´s; he admits to have changed names, and the book is closer to a book of fiction than the Min Kamp series. Also, Eggers bases his story on one particular part of his life: the loss of both his parents and his raising of his younger brother. It is nevertheless a tour-de-force of a book. Although the author at times seems to be too smug for his own good, he comments on it and in a way involves the reader into the reasoning behind telling the story in the way and manner he does. Some of the segments of the book are really inventively written, like the casting interview with MTV, others are incredibly strong and touching, like the sequence about his receiving his mother´s ashes. I wish I had left all the prefaces to the very end, these made more sensing reading after I had finished the main part of the book. I recommend this book to anyone who will be looking for an easy read that will challenge you all the way, and who enjoys authors that pour themselves into their storytelling.
Review by alexrichman
16/06/2015
An achingly hip, smugly knowing and oddly cheery version of a misery memoir. Eggers freely admits that the book is rambling, uneven and filled to overflowing with post-modern fanciness, and he's right. Still, if you're pulled in by the title, as I was, then you'll enjoy the author's style; if not, there's no point cracking the spine.