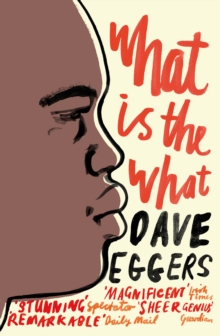 What is the What
Paperback
Description
What is the What is Dave Eggers's astonishing novel about one of the world's most brutal civil warsValentino Achak Deng is just a boy when conflict separates him from his family and forces him to leave his small Sudanese village, joining thousands of other orphans on their long, long walk to Ethiopia, where they find safety - for a time. Along the way Valentino encounters enemy soldiers, liberation rebels and deadly militias, hyenas and lions, disease and starvation.
But there are experiences ahead that will test his spirit in even greater ways than these . . .Truly epic in scope, and told with expansive humanity, deep compassion and unexpected humour, What is the What is an eye-opening account of life amid the madness of war and an unforgettable tale of tragedy and triumph.'If there was ever any doubt that Dave Eggers is one of our most important storytellers, What Is the What should put it to rest... [A] strange, beautiful and unforgettable work' San Francisco Chronicle'A remarkable book: harrowing, witty, wretched, delightful; and always compelling, always surprising' London Review of BooksAll of the author's proceeds from this book will go to the Valentino Achak Deng Foundation. Read more at: www.valentinoachakdeng.com.
Information
Format: Paperback
Pages: 560 pages
Publisher: Penguin Books Ltd
Publication Date: 01/07/2008
ISBN: 9780141015743
Free Home Delivery
on all orders
Pick up orders
from local bookshops
Reviews
Showing 1 - 3 of 3 reviews.
Review by Rynooo
16/06/2015
Despite the significance of the subject matter, the overly-sentimental and hopelessly broken narrative blurs this novel's impact to the point of tedium. The side-plot used solely to stitch together the semi-biographical sections is clumsily constructed and ultimately uninspiring; the protagonist's memories implausibly delivered in mental soliloquy to a series of incidental characters.Granted, parts of the story are enthralling and much of the imagery harrowing, but the huge chronological gaps, shallow personae and repeated set-pieces -- characters experience hardships; stumble across corpses; encounter hostilities -- are shocking the first time around but lose much of their impact when you hear them again and again (and again). Of course this is indicative of the state of affairs in southern Sudan over the past 25 years but the manner of delivery does little to convey the importance of the story.
Review by joellalibrarything
16/06/2015
This is an amazing book.. an incredible story told beautifully.
Review by toddj
16/06/2015
True story of a Sudanese child during civil war, his coming of age in a refugee camp and eventual relocation to the US. Educational, eye opening, funny, and sad. Buy it, your money will make a difference in someone's life.