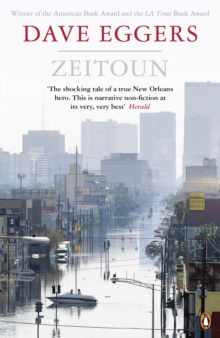 Description
Dave Eggers's Zeitoun is the winner of the American Book Award and the LA Times Book Award In August 2005, as Hurricane Katrina blew in, the city of New Orleans has been abandoned by most citizens.
But resident Abdulrahman Zeitoun, though his wife and family had gone, refused to leave.
For days he traversed an apocalyptic landscape of flooded streets by canoe.
But eventually he came to the attention of those 'guarding' this drowned city.
Only then did Zeitoun's nightmare really begin.Zeitoun is the powerful, ultimately uplifting true story of one man's courage when confronted with an awesome force of nature followed by more troubling human oppression.'Eggers uses Zeitoun's eyes to report on America's reasonless post-Katrina world, Reminiscent of Gabriel Garcia Marquez's documentaries, this is a true story told with the skills of a master of fiction.
Immensely readable' Independent'Masterly. Brilliantly crafted, powerfully written and deftly reported' Guardian'The stuff of great narrative non-fiction.
Fifty years from now, when people want to know what happened to this once-great city, they will be talking about a family named Zeitoun' The New York Times Book Review
Information
Format: Paperback
Pages: 368 pages
Publisher: Penguin Books Ltd
Publication Date: 01/02/2011
ISBN: 9780141046815
Free Home Delivery
on all orders
Pick up orders
from local bookshops
Reviews
Showing 1 - 4 of 4 reviews.
Review by beefriendly
16/06/2015
Great true story about a Syrian-American couple in New Orleans who encounter the real America in the aftermath of Katrina. Starts off a bit corny for my taste.
Review by patrickgarson
16/06/2015
It is easy to get caught up in the storm and stress of Eggers' book (not novel). The tale of one family's Hurrican Katrina experience and its aftermath demands your attention, enrages and propels you through its simple prose. But there's more in this book than superb agitprop; there's a richness to this seemingly simple repast if you take the time to appreciate it. The Zeitouns are in most respects a typical family. Kathy and Abdulrhaman are parents to four children, with a thriving contracting business. But as Hurricane Katrina approaches, they are about to face a storm in more ways than one. Eggers has written their real-life account, and though he's faced criticism for his simple, almost bare prose, I thought he did a valiant job of keeping himself out of the story. Dealing with real people, and their emotions, Eggers' instinct as a writer would have been interpretive, but he keeps things to an almost neo-realist level. Plain description, and short, spare sentences outlining the Zeitoun families thoughts and feelings. This makes the book very easy to read. Indeed, with such simple prose and a growing tension, the temptation to rip through the pages is immense - I was only partially successful in resisting it myself. And yet, if you take that time before the book's jaw-dropping final third, you will be rewarded. Electing to stay behind once the hurricane hits, Zeitoun's experiences in the flooded city are like small, gem-like vignettes, interspersed with stories of his family and personal history. A less disciplined writer would have beaten and polished this thematic richness until it shone in the reader's eyes, but Eggers' - letting the stories speak for themselves - avoids this, and puts it on the reader to engage and construct these connections. Certainly, they are overshadowed by, and lack the burning simplicity of, the book's core, but that tremendous contrast can bear fruit if it's not trampled over to reach the conclusion. And what a conclusion. The horror stories of Katrina are pretty widely known, but I was still shocked at what I read - not only the Zeitoun's own story, but all the stories. This book reveals how thin the veneer of the state is, and how its cosigns - security, responsibility, accountability, liberty etc - can evaporate like gossamer with the right provocation. It's a stunning indictment not only of the American state, but the American society that produces such an institution; the indifference and culpability of so many citizens. The much-vaunted rights disappearing under a torrent of hate, fear, neglect, apathy etc. In this respect, Zeitoun is very much in the tradition of Upton Sinclair or Steinbeck; though at the same time, it's quite different to them. There's isn't a sense of rage propelling this book. Some have said it ends on an update note, but I personally found the opposite. This if nothing else should illustrate the sophistication of Eggers' simplicity; Zeitoun forces the reader to cogitate, confront, and converse. It may tell you as much about yourself - as a reader, if not a person - as it does about Zeitoun the man. An excellent read, and very unusual for the 2000s. I expect it will become canonical, in many ways.
Review by DRFP
16/06/2015
Even leaving aside the true nature of Mr Zeitoun's character in light of events that have transpired since this book was published (and anyone reading this book will come away thinking the portrayal is startling uncritical even without knowledge of subsequent allegations) I thought this a disappointing read. The prose is incredibly simplistic and rather boring as a result. Certainly, it makes it easy to read and I assume Eggers' was trying to write it in a way that mimics Zeitoun's basic way of speaking English as a second language, but it didn't make for an interesting read. In fact it makes the whole book feel like an incredibly long <i>New Yorker</i> article, which is fine for a magazine format but not for a full length volume.The events portrayed are certainly horrific, though until Zeitoun is picked up by the authorities 2/3 of the way through the novel, the story doesn't seem all that bad or riveting. After that point Kathy's histrionics magnify, probably rightly, and I admit I found it tedious and wish the author had toned it down. The "point" of the book felt like a long time coming; it's certainly awful when you get there, but Eggers' simple style of writing and detached viewpoint fails to add weight to the significant issues raised. It felt like a very lightweight treatment of major concerns.All in all, while Katrina and its aftermath were horrid affairs, I don't think this is the book to do the subject justice. It's an accessible, decent read, but nothing of real worth.
Review by jayne_charles
27/08/2015
A very readable and often shocking non-fiction account of one family's experience during Hurricane Katrina. I'm glad to have read it, and learned a lot from it – particularly the connection between the disaster and the 'War on Terror' – which wouldn't have been immediately obvious but which was explained patiently in the final section. Inevitably, though, my reading experience was coloured by the fact that I googled "Zeitoun" while reading the book, and learned that events have not been kind to this family in recent years. I really wished I hadn't found that out before I finished reading, and if you don't want to know, please stop reading this now. The solidity of the Zeitoun family's marriage was at the heart of the story, and to learn that their relationship has imploded spectacularly was a shock; it made me question everything I was reading. Looking back now, I wonder how important it is that I believe it to be the truth....if it were fiction I would know it wasn't true and I read fiction all the time. And yet....if it were fiction I would surely have questioned the characterisation and said to myself 'no, no, these Zeitouns are too good to be true. Nobody is that perfect.'I'd have to put this book on the same imaginary shelf as "Papillon" and "The Bookseller of Kabul" – they are all supposed to be based on fact, but for various reasons you have to take them with a pinch of salt. Yet they all have something valuable to say, and I don't regret reading any of them. In the case of' Zeitoun', regardless of the doubts that might be raised by recent events, this is a real family who lived through an immense trauma and I wish them peace.