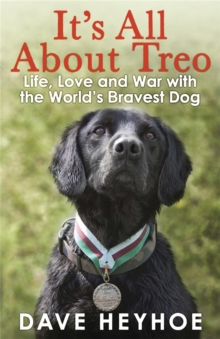 It's All About Treo : Life and War with the World's Bravest Dog
Paperback
Description
This is the incredible true story of the unbreakable bond forged between Treo, the world's most highly decorated dog, and his handler Sgt.
Dave Heyhoe When Dave Heyhoe was sent to Afghanistan to help detect the Taliban's murderous roadside bombs, he knew he'd need a special dog by his side.
Luckily for him, his closest pal Treo, a staggeringly brave ball of energy and mischief was with him every step of the way.
The two friends had a miraculous understanding that helped them save countless lives but, as they embarked on a roller-coaster emotional ride, Dave realized he needed Treo more than he could ever have imagined.
Tear-jerkingly sad one moment, laugh-out-loud hilarious the next, It's All About Treo is a moving and uplifting story that will melt the hearts of animal lovers everywhere.
Information
Format: Paperback
Pages: 336 pages
Publisher: Quercus Publishing
Publication Date: 20/06/2013
Category: True war & combat stories
ISBN: 9781780873992
Free Home Delivery
on all orders
Pick up orders
from local bookshops
Reviews
Showing 1 - 1 of 1 reviews.
Review by crashmyparty
16/06/2015
It's All About Treo is the touching true account of the brave war dog, Treo, and his human, Dave Heyhoe and their six month tour in Afghanistan to where they were deployed as a search team for hidden explosives. Alongside the Rangers, they would go out on a patrol and Treo soon became known and feared by the Taliban as 'the black dog'. Dave and Treo saved countless number of lives during their tour in Afghanistan and came home as heroes.It's difficult to review true stories. This is the account of someone's life, their experiences. You can't blame them for plot holes or poor characters. However, in the case of It's All About Treo, I did find a bone or two to pick (pun intended!) regarding the writing, and the use of words regarding our four-legged hero himself. What I found glaringly obvious in this book, and despite being an all-round animal lover myself, was the anthropomorphizing of Treo. If this had been fiction and the animals the main characters (a la Black Beauty and Charlotte's Web), it wouldn't have been an issue. But it's non-fiction, and having almost finished my Animal Science degree I find these things difficult to ignore. Coupling to that, what I felt was completely unnecessary was Dave constantly telling us what Treo was thinking, or, even worse, when he refers to things that Treo has 'said'.I understand the bond between them must be very close, but at the same time, your dog doesn't think in words. He will think in smells, predominantly as that is the strongest sense, as well as sounds and sights. He also doesn't 'know' many of things Dave accredits him with – his behaviour is simply a reaction to Dave's, hence Treo seeming depressed when Dave is upset about the death of another dog handling team. There are also inconsistencies within the writing, such as at one point Dave remarks that searching for bombs is all a big game to Treo, and at another point he says that the dog knows it's serious now. Which is it? Is it a game or is it serious? Dave is also prone to exaggeration – if he actually froze everytime Treo took a step he wouldn't get very far. I also feel like, as this a factual account, a timeline would have been helpful. It's just the little things that detract from the overall reading experience, when I'm thinking 'well, no, that's not quite right'.Treo and Dave were a remarkable team and regardless of whether you believe dogs should be in active military service, there is no doubting the special bond between handler and animal, and the incredible things they accomplished during their time. I wish them both a long and happy retirement. 
Also by Dave Heyhoe