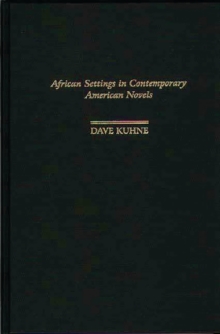 African Settings in Contemporary American Novels
Hardback
Description
Africa has long captured the Western imagination as a land shrouded in danger and mystery.
British and American novels written before World War II established popular conventions and stereotypes about Africa that have been increasingly challenged by contemporary American novels set in Africa.
Kuhne's book overviews the ways in which Africa has been employed as a powerful setting for American novels written since World War II.
Kuhne argues that contemporary American novels with African settings are largely didactic, that these novels convey specific lessons about Africa and Africans, and that they compare African and American cultures in order to evaluate and critique the two worlds. The book begins by summarizing the conventions and themes Westerners have traditionally associated with Africa and by detailing how British and American authors from Aphra Behn to Ernest Hemingway depicted Africa before World War II.
It then looks at contemporary American novels set in invented African nations, novels that typically suggest that the problems that trouble actual African nations are the result of colonialism.
A separate chapter then examines the African novels of African Americans, which generally aim to correct the historical record, refute stereotypes, and detail the horrors of the slave trade.
The volume also looks at genre fiction set in Africa, while a final chapter discusses postcolonial novels with African settings.
Free Home Delivery
on all orders
Pick up orders
from local bookshops