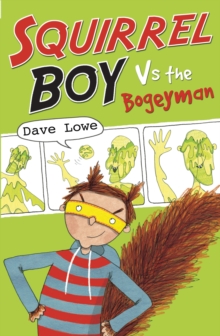 Squirrel Boy vs. the Bogeyman
Paperback
Description
Walter Kettle is just an ordinary boy until he is bitten on the bottom by a radioactive squirrel.
From that moment, whenever he eats a nut, Walter Kettle becomes...Squirrel Boy!
But Walter isn't the only person impacted by nuclear activity: on the other side of town Jeremy Winkleman-Grubb is picking his nose...With the help of his ferocious elderly neighbour, Mrs Onions, Walter finds himself fighting crime in this hilarious series for 6 -10s about a totally unlikely superhero.
There's an explosion at the town's nuclear power plant.
A week later, after eating his mum's nut roast, Walter realises something very strange is happening to him.
Meanwhile, on the other side of town, Jeremy Winkle-Mann Grub is picking his nose.
When he inserts a finger into his nostril, he accidently inserts a bug (a bug that has recently been living in the armpit of an aforementioned radioactive squirrel), and Jeremy becomes the Bogeyman.
When the Bogeyman embarks on a series of thefts, Walter is the only one who can stop him.
Following a strict training regime, orchestrated by Mrs Onions, Squirrel Boy is ready to save the town.
Illustrated in comics style panels by Cate James. REVIEWS: "Squirrel Boy vs the Bogeyman by Dave Lowe follows in the comic footsteps of awesome authors like Roald Dahl and David Walliams to conjure up a new breed of superhero.
He might not be able to fly, he doesn't have a cape, and his outfit leaves a lot to be desired but Walter Kettle AKA Squirrel Boy is our last best hope against the most nefarious menace known to mankind.
Bogeymen!" -- READ IT DADDY
Information
Format: Paperback
Pages: 160 pages
Publisher: Phoenix Yard Books
Publication Date: 01/02/2015
Category: Humorous
ISBN: 9781907912726
Free Home Delivery
on all orders
Pick up orders
from local bookshops
Also in the Squirrel Boy series