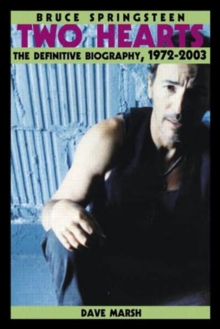 Bruce Springsteen : Two Hearts, the Story
Paperback
Description
Bruce Springsteen: Two Hearts is the definitive biography of one of the most important songwriters and performers of the last three decades.
Critic Dave Marsh has traced Springsteen's career from its beginning, and has earned the singer's respect through his careful documentation and critical description of Springsteen's work.
This biography brings together for the first time Marsh's two previous biographies, Born To Run (which covered Springsteen's early career through the mid-'70s) and Glory Days (which took him through the mid-'80s).
Both were widely praised for their insightful and near definitive coverage of Springsteen's life and music.
For this book, Marsh has written a new chapter covering major developments in Springsteen's career to today, particularly focusing on his album The Rising and its impact on American culture.
Information
Format: Paperback
Pages: 754 pages, 2 x 8pp b&w glossy illustrations
Publisher: Taylor & Francis Ltd
Publication Date: 27/10/2003
Category: Music: styles & genres
ISBN: 9780415969284
Other Formats
EPUB from £27.88
PDF from £16.19
Hardback from £105.00
Free Home Delivery
on all orders
Pick up orders
from local bookshops
Reviews
Showing 1 - 3 of 3 reviews.
Review by zimbawilson
16/06/2015
To paraphrase the blurb on the backcover, 'until Springsteen writes his own story this will have to do.' The cover is very misleading as it states this is the definitve story of Springsteen and that it covers his career up thru 2003. What it really covers is everything thru about 1987 and then a few add on pages by Marsh at the end (and I do mean few) to pretend it's updated thru The Rising. I doubt that any ardent Springsteen fan will learn anything about Bruce they didn't already know. This reads more like a person who followed Springsteen around the world from Born to Run on and then wrote about his experiences while giving his 'critical' opinions about the music. While Marsh is pretty thorough in his coverage of Springsteen's musical journey there is a lack of personal items that would give you better insight into his mind at any given time. I for one would rather hear those things from Bruce himself if he ever decides to go that route so I can't be too critical of Marsh for that. But at times it seemed obvious to me that Marsh's longtime friendship with Springsteen gets in the way of writing a more interesting and detailed story.
Review by satyridae
16/06/2015
The very first concert I ever saw was Bruce Springsteen. It was his first big tour, and it pretty much ruined me for all the lukewarm performances of the rest of the 70s. Hell, it pretty much ruined me for everybody except Iggy Pop and Leonard Cohen and Loudon Wainwright III. Nobody ever cared as much as Bruce, and we responded so fiercely to him in the Rust Belt where I first heard him. I've seen him several times and his shows are always balls-to-the-wall flat out intense and wondrous but the magic of that very first show remains shiny in my memory all these decades later. I've married and fallen in love and divorced and worked and played to his music. I've bought (bought!) all of his albums.<br/><br/>I am not an unbiased reader, in other words. I'm not coming to this book a virgin. I don't need to be converted. I already know he's a genius.<br/><br/>Marsh is a bigger fan than anyone, and he makes no secret of it. He knows and loves Springsteen in real life, and his admiration colors the book. His deep musical knowledge brings a lot to the table. The book is very, very analytical as far as the music goes, and less analytical about the life of Bruce. I don't have a sense of Bruce in situ, living his actual life, the way I do of Keith after reading Keith Richards' autobiography- but it's okay. The sense of Springsteen as a private, maybe even shy person is enough. The music is what matters in the end.<br/><br/>As a consequence of reading this book, I've listened to literally nothing but Springsteen songs for a week. I've marinated in Rosalita, wept every single time The Rising played, and still get goosebumps from the title track from Nebraska. It's been fascinating listening and reading at the same time. I feel like I know the songs a little better now.<br/><br/>The book is recommended only for fans, I think. It's repetitive and goes into more detail regarding concert set lists than even I wanted to read. And Marsh says "star-maker machinery" at least once in every single chapter. I wanted to hit him over the head with a Joni Mitchell album after about the hundredth repetition.
Review by MiriamMartin
16/06/2015
Not only a great history of the Boss but also of rock and roll.