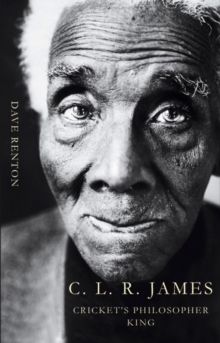 C.L.R. James : Cricket's Philosopher King
Hardback
Description
He was a friend and inspiration to Kwame Nkrumah and Julius Nyerere, the two leaders of the first generation of independence struggles.
His account of Toussaint L'Ouverture's slave rebellion in Haiti is one of the great historical works of the twentieth century.
His studies of Hegel and Marx became part of the common knowledge of several generations of radicals in America, Europe, the Caribbean and Africa.
Information
Format: Hardback
Pages: 202 pages, 15 black & white halftones
Publisher: Haus Publishing
Publication Date: 01/08/2007
ISBN: 9781905791019
Free Home Delivery
on all orders
Pick up orders
from local bookshops
Reviews
Showing 1 - 1 of 1 reviews.
Review by kidzdoc
16/06/2015
C.L.R. James (1901-89) was one of the leading black intellectuals of the 20th century, and was influential in the Pan African and US civil rights movements, independence for his home country of Trinidad, and the socialist and Trotskyite movements. He was born in Trinidad and lived for many years in the UK and the US, and was closely linked to Leon Trotsky, Kwame Nkrumah (the first president of Ghana), Richard Wright, V.S. Naipaul (his fellow countryman, who eventually turned against him), Dr. Eric Williams (the first prime minister of Trinidad and Tobago), and the American Marxist Max Shachtman. He was an ardent critic of Stalin, who he felt betrayed the Russian Revolution and did not support the independence movements in Africa, Asia and the Caribbean. However, his first love was cricket, and he turned to the life of a writer and intellectual only after he proved to be nothing more than a competent player of the sport. Cricket would always be important to him, as his book Beyond a Boundary is widely considered to be the best book ever written about the sport, and he was a regular cricket reporter for The Manchester Guardian throughout much of his adult life.Renton's short but accessible and interesting biography demonstrates how the rules and play of cricket influenced James' development as a socialist and intellectual. As a young man in Trinidad and his early years in the UK he loved the attire, proper rules and moral code of the sport, especially in comparison to the raucous and wanton behavior of his people, and he viewed the British culture as inherently superior. Later on, however, he learned more about the pastoral and egilatarian aspects of cricket, particularly as it was played in the countries of the British Empire and in working class Britain, and this coincided with his changing political views.This book is an excellent introduction to James, socialism, and the Pan African movement, in addition to cricket, and is highly recommended as a starting point for further study in these areas.
Also by Dave Renton