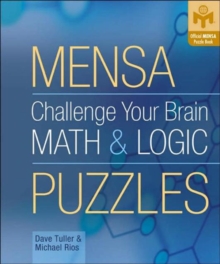 Challenge Your Brain Math & Logic Puzzles
Paperback
Description
Give your brain a workout on the type of brainteasers that challenge the best solvers at the World Puzzle Championships.
They're tough, but fun, and the feeling of satisfaction you get when you succeed is simply unbeatable.
Some of the puzzles are oldies but goodies, like battleships - and its many variants - where you search for a fleet hidden within a grid.
In "Eminent Domain," try to determine which blanks cells are owned by the numbered ones.
For "Hex Loops," locate a path that travels through adjacent hexagons: the trick is, it has to end where it started, and the lines can't touch or cross.
From Snaky Tiles to Spiral Galaxies, these Mensa-level conundrums will get your mind in shape.
About MENSA:- Mensa is the internationally renowned high IQ society which has a worldwide membership of almost 100,000 members in more than 100 countries.
There are 28,000 members in the UK, including 2,200 Junior Mensans under the age of 16.
To join Mensa, the only requirement for membership is that an individual's IQ falls within the top 2 per cent of the population.
Information
Format: Paperback
Pages: 96 pages
Publisher: Sterling Publishing Co Inc
Publication Date: 01/10/2005
Category: Puzzles & quizzes
ISBN: 9781402714498
Free Home Delivery
on all orders
Pick up orders
from local bookshops