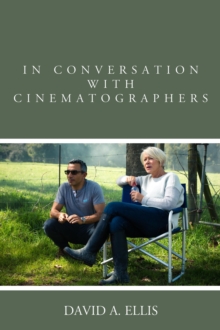 In Conversation with Cinematographers
Hardback
Description
Although cinematographers are vital to the filmmaking process, they don't always get the recognition they deserve.
Directors of cinematography often are responsible for the look of a film and its lasting impression on the viewer, but their skills are not as readily appreciated as those of directors or screenwriters.
David A. Ellis had the privilege of meeting with a number of accomplished cinematographers to discuss their art and craft. In Conversation with Cinematographers features interviews with 21 directors of photography--as well as two notable camera operators--most of whom still work in film and television today.
In this volume, readers are taken behind the scenes of some of the most successful films and shows of the last several decades.
Interviewed in this book are:* Sue Gibson (Hear My Song, The Forsyte Saga)* Gavin Finney (Colditz, Mr Selfridge, Wolf Hall)* Oliver Stapleton (The Cider House Rules, State and Main, The Proposal) * Phil Meheux (The Fourth Protocol, Casino Royale)* Brian Tufano (Trainspotting, Billy Elliot, The Evacuees)* Clive Tickner (Traffik, The Puppet Masters, Inspector Morse)* Stephen Goldblatt (The Prince of Tides, Angels in America, The Help)* Seamus McGarvey (High Fidelity, Atonement, The Hours)* Peter MacDonald (Excalibur, Hamburger Hill, Rambo 3)* Mike Southon (Gothic, Doctor Who: The Hider in the House)* Rob Hardy (Every Secret Thing, Testament of Youth, Ex Machina)* Harvey Harrison (101 Dalmatians, The Expendables, Sahara)* Mike Valentine (Shakespeare in Love, Skyfall, The Bourne Ultimatum)* Robin Browne (Gandhi, A Passage to India, Air America)* Adam Suschitzky (Life on Mars, The Whisperers)* Ken Westbury (Dr. Fischer of Geneva, The Singing Detective)* Simon Kossoff (Young Charlie Chaplin, Client 9,The Daisy Chain)* Chris Seager (Call the Midwife, Game of Thrones)* David Worley (Quantum of Solace, Thor: The Dark World, The Full Monty)* Trevor Coop (Amadeus, Ballykissangel, Chocolat)* Haris Zambarloukos (Mama Mia, Cinderella, Jack Ryan: Shadow Recruit)* Peter Hannan (The Gathering Storm, My House in Umbria, The Razor's Edge)* Roger Pratt (Shadowlands, Harry Potter and the Goblet of Fire, Batman)These cinematographers recount their experiences on sets and reveal what it was like to work with some of the most acclaimed directors of recent times, including Danny Boyle, Francis Ford Coppola, Clint Eastwood, Lasse Hallstrom, David Lynch and Steven Spielberg.
With valuable insight into the craft of moviemaking and featuring more than forty photos, this collection of interviews will appeal to film professors, scholars, and students, as well as anyone with an interest in the art of cinematography.
Information
Format: Hardback
Pages: 242 pages, 44 Halftones, black and white
Publisher: Rowman & Littlefield
Publication Date: 16/07/2015
Category: Cinematography, television camerawork
ISBN: 9781442251090
Also by David A. Ellis