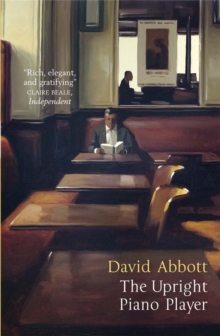 The Upright Piano Player
Paperback
Description
Henry Cage seemed to have it all. A successful business career, considerable wealth, and a reputation for being a just and principled man.
But public virtues can conceal private failings, and as Henry faces retirement, his well-ordered life begins to unravel.
On the eve of the new millennium he is the victim of a random act of violence which soon escalates into a prolonged persecution, with tragic consequences.
Family secrets are revealed, and when his ex-wife Nessa summons Henry to Palm Beach, he realises that there is little time to redress the mistakes of the past.
The Upright Piano Player explores with a tender, yet unflinching eye the small but devastating flaws in human nature that can shape our destinies.
Information
Format: Paperback
Pages: 240 pages
Publisher: Quercus Publishing
Publication Date: 07/03/2011
ISBN: 9781849164054
Free Home Delivery
on all orders
Pick up orders
from local bookshops
Reviews
Showing 1 - 3 of 3 reviews.
Review by Jaie22
16/06/2015
Almost every review of this book I have seen has been positive, so I'm quite confused by why I dislike it so much. It's written in two parts, although part one is so short it could be called a prologue. Following part one, the action jumps back five years. The thing is, part one, although tragic, was really well done. I kept waiting for the rest of the story to catch up to it in time, but it didn't. No matter what kind of breakthrough Henry might have in the rest of the book, that incredible tragedy awaited him; any happiness he attained was going to be wiped out dramatically. The first part was the story I wanted to read about, not the family history that led up to it. I'm still really confused about what it was doing there, especially at the beginning.I'll try again - maybe it's just not the right day for me to read this book, maybe the stars are misaligned or something, but for right now, I don't see why the book is so popular.
Review by GCPLreader
16/06/2015
The Upright Piano Player is a bold McEwan-esque debut novel that has quite an emotional impact. The author takes the risks of starting the novel with an unspeakable tragedy and then going back in time to show the journey each character went through up to that point. Henry Cage is a wealthy British retiree who has become estranged from his family. A random act of violence on New Year's Eve triggers a series of unpleasant encounters that leave him unhinged. The tension here is palpable and it is certainly the type of novel that I didn't want to put down. My only quibble would be the peripheral characters and storylines that seem unresolved. Perhaps the novel should have been longer. I certainly wouldn't have minded reading more from this talented author. ---strongly recommended
Review by lorimarie
16/06/2015
I have to say that this book really took me by surprise. I was tormented by part one. I can't say that parts one and two go together very well. I loved the writing. But the tragedy that begins the book really had nothing to do with the rest of the book. This is one of those books where you just say - Why? The second part of the book I can understand, ugly and creepy and scary as it was, I get that, there are people in the world that are mean and hateful like that, and there are also people like Henry that are kind and gentle.I had to reread the beginning once or twice to really "get it" . I feel like the tragedy in the beginning wasn't needed because the rest of the story was so full and complete. The flipping back and forth in time threw me a bit, but once I got it I knew what was what. Once I got to the end though, and I knew the tragedy at the beginning was coming, I thought to myself- "why would you do this to this man who has finally come to peace?' So for me, Henry finding his new home really just sucked because you knew what was coming. Was this the author's plan? I don't know, what I think is that it would have been a complete story without the tragedy at the beginning/end. I think this is an amazing author and would love to read his next novel.