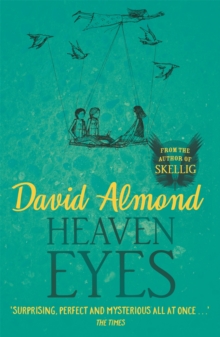 Description
Erin, January and Mouse live in a children's home, Whitegates.
They often dream of escape, and frequently journey into the outside world.
Running away is something they know all about. But this time January builds a raft, and the three of them head precariously down river.
Towards the Black Middens. This time they might never come back. When they stumble across a disused factory and its strange inhabitants - Grampa and Heaven Eyes - they wonder if they'll even have the choice.
Heaven Eyes is the girl who should have drowned at sea.
The mysterious girl desperately searching for her family, hoping that these three might be the family she has lost.
She has a secret history only Grampa knows. And does he trust these three invaders enough to tell them?
Erin feels a sisterly responsibility for Heaven Eyes, Mouse longs to belong anywhere and anyhow, but January thinks Grampa's a murderer.
Whatever happens, all three have a part to play. . .A stunning novel from the author of the modern children's classic Skellig - winner of the Carnegie Medal and the Whitbread Children's Book Award.
David Almond is also winner of the 2010 Hans Christian Andersen award.
Information
Format: Paperback
Pages: 224 pages
Publisher: Hachette Children's Group
Publication Date: 01/11/2007
Category: General
ISBN: 9780340944974
Free Home Delivery
on all orders
Pick up orders
from local bookshops
Reviews
Showing 1 - 1 of 1 reviews.
Review by sirfurboy
16/06/2015
David Almond writes books that are some of the most profound young adult literature I have ever read. Apart from their short length, they would rate up there with any of the great works of contemporary fiction - and for young adult readers moving into a more mature theme, these works are ideal. Okay when I said "more mature" that sounded patronising! But I cannot think of a better word. These books are deeper than most adult novels I read. But that does not mean you have to be mature to get something from them. They are written primarily for young adults, but loved by adults too. If you know a better word for that - let me know!In this story we are intrduced to Erin Law, orphaned and living in care with other such children. They are encouraged to share their feelings about what has happened in "circle times", although Erin refuses too. They are labelled as "damaged" and encouraged to believe that they are victims of circumstance that will leave them unloved by the world.But from time to time they run away, and on one such adventure, Erin and two friends cross a river on a raft and end up at a wharf in the muddy Black Middens area, where they meet an old man and another orphan - heaven eyes.David Almonds works are laced with mystery, and some of that mystery remains unresolved. Who is Heaven Eyes? Ultimately the answer to that is less important than what she teaches the children about love and family and their own place in the world.There is sadness in this book. The author, who lost a parent and a sister at an early age speaks from experience on that score, and the voices of these children are realistic and almost heart breaking at times. But the ultimate story is one of hope.Not everyone will like this book. David Almond's books are light in enthralling plot, and heavy in characterisation. Some people will give up on the book asking "well what was it about"? Each to their own - and if you like books that are all plot and adventure, then maybe this is not for you. Then again, it is a short work and maybe it is worth a try anyway! If you like deep mystical books with a hint of magic and a large dose of realism, then this one is recommended.