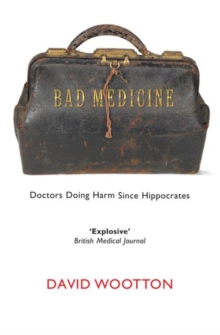 Bad Medicine : Doctors Doing Harm Since Hippocrates
Paperback
Description
Just how much good has medicine done over the years? And how much damage does it continue to do? The history of medicine begins with Hippocrates in the fifth century BC.
Yet until the invention of antibiotics in the 1930s doctors, in general, did their patients more harm than good.
In this fascinating new look at the history of medicine, David Wootton argues that for more than 2300 years doctors have relied on their patients' misplaced faith in their ability to cure.
Over and over again major discoveries which could save lives were met with professional resistance. And this is not just a phenomenon of the distant past.
The first patient effectively treated with penicillin was in the 1880s; the second not until the 1940s.
There was overwhelming evidence that smoking caused lung cancer in the 1950s; but it took thirty years for doctors to accept the claim that smoking was addictive.
As Wootton graphically illustrates, throughout history and right up to the present, bad medical practice has often been deeply entrenched and stubbornly resistant to evidence. This is a bold and challenging book - and the first general history of medicine to acknowledge the frequency with which doctors do harm.
Information
Format: Paperback
Pages: 336 pages, 32 black and white halftones
Publisher: Oxford University Press
Publication Date: 22/11/2007
Category: Humamities
ISBN: 9780199212798
Free Home Delivery
on all orders
Pick up orders
from local bookshops
Reviews
Showing 1 - 2 of 2 reviews.
Review by othurtle
23/09/2015
This is not a story of the irresistible progress of scientific medicine; Wooton's theme is that advances came in spite of doctors and the medical professionEverybody knows about Fleming and penicillin but not that he was perhaps the fifth doctor to notice that penicillin mould destroyed bacteria, and even then he did not realise it's clinical potential. The medical profession is shown as standing in the way of advances which did not come from doctors and in particular of failing to establish the efficacy of the therapies they promoted especially bleeding.There is further distressing news for doctors in the criticism of some of our heroes. I remember Claude Bernard being referred to in tones of awe in my physiology lectures but he is attacked here for ruthless vivisection, performed not just for science but also for public entertainment. The early anatomists are shown to have been disreputable types, boiling up unclaimed corpses in pursuit of anatomical progress and to come back to Fleming we are told that he earned his living developing quack vaccines for his boss at St Mary's Hospital.There is some fascinating detail here about the cholera outbreaks in London. The drain enthusiasts are accused of having promoted the epidemics; the contaminated sewage was efficiently drained into the Thames, which unfortunately half the population were still drinking! Snow is revealed as being alone in understanding that the requirement was for clean water, and there is much interesting material about his investigations.According to Wooton there was a needless century and a half's delay between the discovery of the microscope and the development of the germ theory of disease. The microscopes of the seventeenth century were crude but did reveal microbes and if anyone had been bothered they could have seen the creatures causing disease and perhaps done something about it.The central accusation is that doctors smugly practised their craft, mostly bleeding but sometime purging their patients without making the slightest attempt to assess the effectiveness of their actions. In fact with their "patient centred medicine" they were opposed to thinking about disease groups and always tried to deal with people as individuals. Comparisons were thus impossible, the placebo effect was unrecognised and the usual outcome of many diseases was not known. The need to count and assess what we are doing is not always remembered even now; look at the delusions we all followed during the HRT boom some years back, before the results of the controlled trials came in.None of this can be denied but does it indicate particular wickedness in the profession? Wooton says that most doctors simply followed the trend but surely original thinkers are always rare, and sometimes deluded. They are often hard to recognise except through the retrospectroscope.I think that the story of science is never one of steady progress but of leaps forward after years of stasis or backsliding and that medicine is not so much worse than other sciences, particularly the applied sciences. However it is shocking to think that for two thousand years the medical profession was kept going by nothing more effective than the placebo effect!
Review by thewatch
16/06/2015
A revealing and in depth look at the history of medicine, and how it has brought a great deal of harm to many people over the centuries. There is equally time given to innovators and discoverers of genuine worth. I found it well written and fascinating and impossible to put down. The necessary chapters on vivisection and how it has made medicine what it is today was difficult to read and covered both callousness and care in the field.A real eye opener.