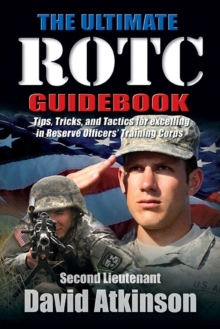 The Ultimate Rotc Guidebook : Tips, Tricks, and Tactics for Excelling in Reserve Officers' Training Corps
Paperback
Description
Are you or is someone you know interested in joining the Army Reserve Officers' Training Corp?
People join the ROTC for many reasons. Some want a guaranteed job once school is finished. Others need help paying for college, want a challenge, or feel a special calling to be a leader in the most powerful military in history.
For anyone interested in this topic, The Ultimate ROTC Guidebook: Tips, Tricks, and Tactics for Excelling in Reserve Officers' Training Corps is a must-read necessity. Cadets come from all walks of life, including students from high school beginning their first year of college, veterans who want to get an education and return to the military as officers, and enlisted personnel who are taking advantage of receiving a free education as they work to transform from an enlisted soldier to an Army officer.
Cadet life is very different from any other civilian or military experience.
The expectations, learning curve, requirements, and tasks will be new to you or will be conducted in a manner you have never experienced. Author David Atkinson had no idea what to expect as a new member of the ROTC in 2007.
With some extra effort and hard work he adjusted and rose to the top of his class and in his book will show you, step by step, how to do the same thing he did and much more.
Within these pages you will learn what to expect and get specific and practical tips on how to excel at every level of training.
There are already documents that explain how to wear your uniform correctly and what awards are available, but only this guide will tell you how to complete a mission above the standard, explain how to reach your peak fitness level, and how to improve your battalion as a whole.
Information
Format: Paperback
Pages: 192 pages, photos and charts throughout
Publisher: Savas Beatie
Publication Date: 01/10/2011
Category: Land forces & warfare
ISBN: 9781611210965
Free Home Delivery
on all orders
Pick up orders
from local bookshops