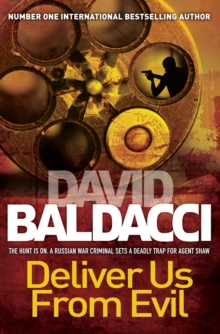 Deliver Us from Evil
Paperback
Description
Evan Waller is a monster. He has built a fortune from his willingness to buy and sell anything ...and anyone.
In search of new opportunities, Waller has just begun a new business venture: one that could lead to millions of deaths all over the globe.
On Waller's trail is Shaw, the mysterious operative from The Whole Truth, who must prevent Waller from closing his latest deal.
Shaw's one chance to bring him down will come in the most unlikely of places: a serene, bucolic village in Provence.
But Waller's depravity and ruthlessness go deeper than Shaw knows. And now, there is someone else pursuing Waller in Provence -Reggie Campion, an agent for a secret vigilante group headquartered in a musty old English estate- and she has an agenda of her own.
Hunting the same man and unaware of each other's mission, Shaw and Reggie will be caught in a deadly duel of nerve and wits.
Hitchcockian in its intimate buildup of suspense and filled with the remarkable characters, breathtaking plot turns, and blockbuster finale that are David Baldacci's hallmarks, Deliver Us From Evil will be one of the most gripping thrillers of the year.
Information
Format: Paperback
Pages: 608 pages
Publisher: Pan Macmillan
Publication Date: 01/11/2010
Category: Thriller / suspense
ISBN: 9780330513692
Free Home Delivery
on all orders
Pick up orders
from local bookshops
Reviews
Showing 1 - 1 of 1 reviews.
Review by readingwithtea
16/06/2015
"A sharp wind smacked against the window, apparently trying to force its way inside"Normally I'm a big Baldacci fan (see True Blue - I read pretty much all his other works before I started blogging) and this had all the makings of an excellent plot: vigilantes hunting down war criminals at large, a recurring agent Shaw coming into conflict with the vigilantes and the war criminals, settings in the US, UK and Provence...But it just got too violent for me. I'm used to the investigators/agents/heroes finding people who have been brutally tortured and murdered - I'm not using to reading along as the bad guy does the torturing and killing. Baldacci just went one or two notches further to the gruesome side and it was too much for me, so I had to give up at page 230 (out of 596).Normally Baldacci et al get 7/10 but the book loses a few points because:- the Englishness of the UK characters was hugely overdone, they all talked in stereotypical phrases: "Well, bloody paper can be nicked pretty easily too" "Smashing" "Eh, Reg, you shoulda rung up... Almost shot you. Be in a funk for weeks if I did that"- the blurb alludes to a third storyline, and yet by page 230 we've only been introduced to the lead character in that plotline... bit slow to get going there I think.Ah well. Can't win them all.