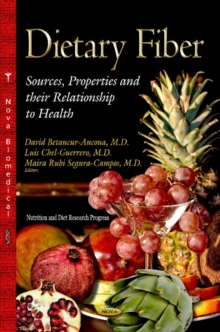 Dietary Fiber : Sources, Properties & Their Relationship to Health
Hardback
Description
Dietary fibre is a broad term that includes non-digestible complex carbohydrates, such as cellulose, hemicellulose, mucilage and colloids, like pectin, carrageenan and arabic, xanthan or guar gum.
Dietary fibre is a plant basic structural factor and exists in water-soluble and non-soluble form.
Soluble fibre is found in certain fruits and vegetables such as oranges, apples, bananas, broccoli and carrots.
It also exists in large amounts in legumes such as peas, soybeans, lentils and beans.
Secondary sources include oat bran, soybeans, nuts and seeds.
Sources of insoluble fibre are whole grain foods, wheat bran, nuts and seeds.
Vegetables, such as green beans, leek, cabbage, cauliflower, broccoli, radish and carrot are high-fibre foods.
Purported benefits of fibre include gastro-intestinal health, cardiovascular health, weight management, satiety, glycemic control and prebiotics.
Recommended intakes, 2035 g/day for healthy adults and children over age 5, are not being met, because intake of good sources of dietary fibre, fruits, vegetables, whole and high-fibre grain products, and legumes are low.
The importance of food fibres has led to the development of a large and potential market for fibre-rich products and ingredients and nowadays there is a trend to find new sources of dietary fibre.
In recent years, dietary fibre has received increasing attention from researchers and industry due to the likely beneficial effects on the reduction of cardiovascular and diverticulitis diseases, blood cholesterol, diabetes, and colon cancer.
The contributors to this volume provide an assessment of not only the impact of the biological and functional potential of different dietary fibre sources but also their health implications.
Information
Format: Hardback
Pages: 251 pages
Publisher: Nova Science Publishers Inc
Publication Date: 12/11/2013
Category: Dietetics & nutrition
ISBN: 9781628089318
Free Home Delivery
on all orders
Pick up orders
from local bookshops