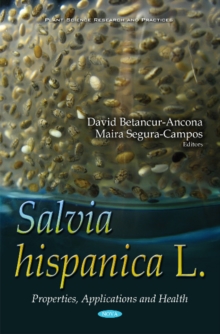 Salvia Hispanica L : Properties, Applications & Health
Hardback
Description
Chia (Salvia hispanica L.) is an annual herbaceous plant belonging to this taxonomic hierarchy.
This book explores a range of topics related to this plant and their nutritional components.
The chapters to this volume provide a survey of chemical composition, functional properties, and its impact on human health, but also the opportunities for chia as an ingredient to be incorporated into foods for the benefit of consumers.
The topics include: Plant history & agronomy; Chemical composition of Chia (Salvia hispanica); Nutritional value of chia seeds; Composition of fatty acid of chia oil; Fatty acids 3 & 6 in chia oil; Chia seeds as source of dietary fibre; Physicochemical properties of chia gums; Biological value of chia proteins; Chemical & functional characteristics of chia proteins; Biological properties of chia; Some pharmacology studies; Health aspects of chia; Experimental & industrial application of chia: Encapsulation & film properties; Prospective utilisation of chia in functional foods.
The contributors to this volume provide valuable information about Salvia hispanica.
The biofunctional, technofunctional potential and health implications of consumers are presented in this book.
Information
Format: Hardback
Pages: 192 pages
Publisher: Nova Science Publishers Inc
Publication Date: 01/02/2016
Category: Botany & plant sciences
ISBN: 9781634843621