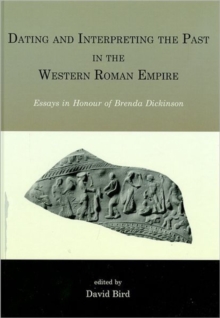 Dating and Interpreting the Past in the Western Roman Empire : Essays in Honour of Brenda Dickinson
Hardback
Description
This volume presents a collection of more than 30 papers in honour of one of Europe's leading scholars on Roman pottery, Brenda Dickinson.
Divided into thematic sections, papers are mostly concerned with her principal area of study, samian, but also touch on Brenda's other interests, with investigations into, for instance, the likely species of Lesbia's pet bird (Catullus) and language and style in the "British" speeches in Tacitus. Papers in the section on potters and potteries examine the evidence for the work of a number of important samian potters, aspects of pottery production and its organisation and a potter's eye view of the approach to reproducing samian.
Further papers are concerned with decoration, stamps and other marks, especially with evidence for previously unrecognised or little known potters, stamps and decorative features; the recognition of locally produced unguentaria from London; and the existence of makers' marks on textiles.
The final section considers the use of samian and other pottery in illuminating aspects of life and death, including consideration of the likely expenditure involved in the inclusion of samian in burials and what the pots actually meant to the people who used them; the possible use of old vessels by plate spinning entertainers; and aspects of cooking methods and the composition and useage of possible dining services.
Free Home Delivery
on all orders
Pick up orders
from local bookshops