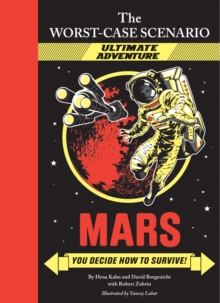 Worst-case Scenario Ultimate Adventure No2: Mars!
Hardback
Description
In this ultimate adventure, join the youngest crew of astronauts ever to make the trip to Mars!
You'll be faced with real dangers and decisions, and your choices will determine your fate on the Red Planet.
Will you achieve your mission and return home to Earth safely, successfully earning the title of the youngest astronaut to make it to Mars? Or will you be forced to turn back early? Only you can determine your own fate. There are twenty-two endings to this adventure, but just one will lead to the ultimate success.
Information
Format: Hardback
Pages: 208 pages
Publisher: Chronicle Books
Publication Date: 17/08/2011
Category: Adventure
ISBN: 9780811871242
Free Home Delivery
on all orders
Pick up orders
from local bookshops
Reviews
Showing 1 - 1 of 1 reviews.
Review by the1stdaughter
16/06/2015
As the youngest member of a crew of astronauts headed to the planet Mars you have a lot to prove. Not only will you be faced with keeping your crew alive, but potentially aiding in the continued survival of the human race that will soon be colonizing the red planet. You will have to read up on the many conditions of space travel as well as the environmental aspects of Mars in hopes that you will survive to return home to planet earth as a successful adventurer and astronaut.It seems as though I'm making up for lost time with my recent reads of the "choose-your-own-adventure" style books. In the past two years I've read a minimum of two a year and sometimes more. As an adult I find them incredibly fun though obviously not my first choice for my personal reading I can absolutely see how they appeal to young readers. If I had been exposed to these type of books as a ten (or so) year old I'm positive I would have devoured as many as I could have gotten my hands on. Worst-Case Scenario Ultimate Adventure #2: Mars! is no exception to this and I'm thoroughly excited to share the series with my own kiddos, my son especially.So, what exactly about Worst-Case Scenario Ultimate Adventure #2: Mars! in particular do I think would appeal to my son specifically? Without a doubt I know the non-fiction aspects of the story would grab him right away. At some point they may appeal to my daughter as well, but her interest in non-fiction type material has yet to emerge. My son on the other hand is constantly on the lookout for new bits of information to devour and this would be perfect. In the back of Worst-Case Scenario Ultimate Adventure #2: Mars! there is a helpful "Expedition File" that includes information about everything from the way to determine north and south while on Mars by the stars to how to survive a dust storm to the types of robotic machines and more. It's fantastic! With the addition of the story you determine by making certain choices this is easily a book that could be read over and over and over again for hours of reading fun.Adventures in space and an outcome determined by the reader, the edition of Worst-Case Scenario Ultimate Adventure #2: Mars! by David Borgenicht is sure to be a hit with young readers who love learning. Having myself only read a couple of the choose-your-own-adventure type books I can only judge them based on my limited exposure to them and husband's experiences reading them in his youth. But having said that I'd easily say this would be a top choice among today's versions of the chose-your-own-adventure books! Worst-Case Scenario Ultimate Adventure #2: Mars! was captivating as well as educational and each of the scenarios you are placed in require more than simply guessing which way to go. I'd highly recommend this as well as the other books in this series by Chronicle Books to young adventure seekers who love a little bit of fun learning mixed with their reading!My original review was posted at There's A Book.