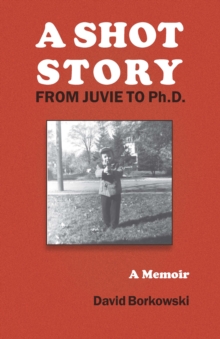 A Shot Story : From Juvie to Ph.D.
Paperback / softback
Description
The botched robbery didn't do it. Neither did the three gunshots. It wasn't until he was administered last rites that David Borkowski realized he was about to die, at age fifteen.
A Shot Story: From Juvie to Ph.D. is a riveting account of how being shot saved his life and helped a juvenile delinquent become an esteemed English professor. Growing up in a working-class section of Staten Island, David and his friends thought they had all the answers: They knew where to hang out without being hassled, where to get high, and what to do if the cops showed up.
But when David and his friend called in a pizza order so they could rob the delivery man, things didn't turn out as they'd planned.
Staring down the barrel of a gun, David and his friend panicked and took off as the cop fired.
Convinced the cop was shooting harmless "salt" bullets, David darted through lawns as the cop gave chase.
Much later, when David was bleeding to death, did the cops realize they had hit one of their own-the son of a fellow cop. Borderline illiterate at the time of the shooting, David took his future into his own hands and found salvation in books.
But his attempts to improve his life were stymied by lack of familial support.
Bound on all sides by adults who had no faith in his ability to learn or to succeed, David persevered and earned his Ph.D.. Funny and poignant, but always honest and reflective, A Shot Story tracks David Borkowski's life before and after the "accident" and tells how his having been a rather unremarkable student may have been a blessing in disguise.
A wonderful addition to the working-class narrative genre, A Shot Story presents a gripping account of the silences of working-class culture as well as the male subculture of Staten Island.
Through his heartfelt memoir, Borkowski explores the universal lesson of turning a wrong into a rite of passage.
Information
Format: Paperback / softback
Pages: 224 pages
Publisher: Fordham University Press
Publication Date: 05/09/2017
Category: Biography: general
ISBN: 9780823278749
Free Home Delivery
on all orders
Pick up orders
from local bookshops