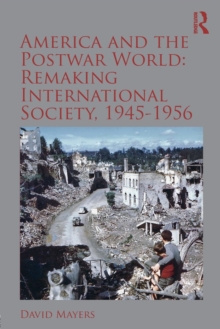 America and the Postwar World: Remaking International Society, 1945-1956
Paperback
Description
The main tide of international relations scholarship on the first years after World War II sweeps toward Cold War accounts.
These have emphasized the United States and USSR in a context of geopolitical rivalry, with concomitant attention upon the bristling security state.
Historians have also extensively analyzed the creation of an economic order (Bretton Woods), mainly designed by Americans and tailored to their interests, but resisted by peoples residing outside of North America, Western Europe, and Japan.
This scholarship, centered on the Cold War as vortex and a reconfigured world economy, is rife with contending schools of interpretation and, bolstered by troves of declassified archival documents, will support investigations and writing into the future. By contrast, this book examines a past that ran concurrent with the Cold War and interacted with it, but which usefully can also be read as separable: Washington in the first years after World War II, and in response to that conflagration, sought to redesign international society.
That society was then, and remains, an admittedly amorphous thing.
Yet it has always had a tangible aspect, drawing self-regarding states into occasional cooperation, mediated by treaties, laws, norms, diplomatic customs, and transnational institutions.
The U.S.-led attempt during the first postwar years to salvage international society focused on the United Nations Relief and Rehabilitation Administration, the Acheson-Lilienthal plan to contain the atomic arms race, the Nuremberg and Tokyo tribunals to force Axis leaders to account, the 1948 Genocide Convention, the 1948 Universal Declaration of Human Rights, and the founding of the United Nations.
None of these initiatives was transformative, not individually or collectively.
Yet they had an ameliorative effect, traces of which have touched the twenty-first century-in struggles to curb the proliferation of nuclear weapons, bring war criminals to justice, create laws supportive of human rights, and maintain an aspirational United Nations, still striving to retain meaningfulness amid world hazards.
Together these partially realized innovations and frameworks constitute, if nothing else, a point of moral reference, much needed as the border between war and peace has become blurred and the consequences of a return to unrestraint must be harrowing.
Information
Format: Paperback
Pages: 282 pages, 15 Halftones, black and white; 15 Illustrations, black and white
Publisher: Taylor & Francis Inc
Publication Date: 19/03/2018
Category: The Cold War
ISBN: 9780815376163
Free Home Delivery
on all orders
Pick up orders
from local bookshops
Also in the Routledge Studies in Modern History series | View all