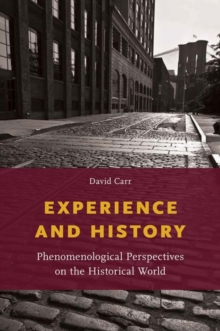 Experience and History : Phenomenological Perspectives on the Historical World
Hardback
Description
David Carr outlines a distinctively phenomenological approach to history.
Rather than asking what history is or how we know history, a phenomenology of history inquires into history as a phenomenon and into the experience of the historical.
How does history present itself to us, how does it enter our lives, and what are the forms of experience in which it does so?
History is usually associated with social existence and its past, and so Carr probes the experience ofthe social world and of its temporality.
Experience in this context connotes not just observation but also involvement and interaction: We experience history not just in the social world around us but also in our own engagement with it.
For several decades, philosophers' reflections on history have been dominated by two themes: representation and memory.
Each is conceived as a relation to the past: representation can be of the past, and memory is by its nature of the past.
On both of these accounts, history is separated by a gap from what it seeks to find or wants to know, and its activity is seen by philosophers as that of bridging this gap.
This constitutes the problem to which the philosophy of history addresses itself: howdoes history bridge the gap which separates it from its object, the past?
It is against this background that a phenomenological approach, based on the concept of experience, can be proposed as a means of solving this problem-or at least addressing it in a way that takes us beyond the notion of a gap between present and past.
Information
Format: Hardback
Pages: 256 pages
Publisher: Oxford University Press Inc
Publication Date: 14/08/2014
Category: History: theory & methods
ISBN: 9780199377657
Free Home Delivery
on all orders
Pick up orders
from local bookshops