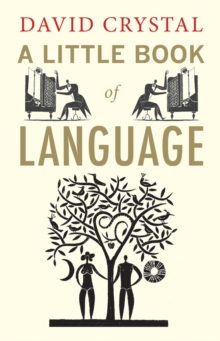 A Little Book of Language
Paperback
Description
With a language disappearing every two weeks and neologisms springing up almost daily, an understanding of the origins and currency of language has never seemed more relevant.
In this charming volume, a narrative history written explicitly for a young audience, expert linguist David Crystal proves why the story of language deserves retelling.
From the first words of an infant to the peculiar modern dialect of text messaging, A Little Book of Language ranges widely, revealing language's myriad intricacies and quirks.
In animated fashion, Crystal sheds light on the development of unique linguistic styles, the origins of obscure accents, and the search for the first written word.
He discusses the plight of endangered languages, as well as successful cases of linguistic revitalization.
Much more than a history, Crystal's work looks forward to the future of language, exploring the effect of technology on our day-to-day reading, writing, and speech.
Through enlightening tables, diagrams, and quizzes, as well as Crystal's avuncular and entertaining style, A Little Book of Language will reveal the story of language to be a captivating tale for all ages.
Information
Format: Paperback
Pages: 272 pages, 40 illus.
Publisher: Yale University Press
Publication Date: 01/03/2011
Category: Language: history & general works
ISBN: 9780300170825
Free Home Delivery
on all orders
Pick up orders
from local bookshops
Reviews
Showing 1 - 2 of 2 reviews.
Review by kaelirenee
16/06/2015
If you've never read a book about linguistics before, this is a fantastic book. It's friendly, funny, and wholy entertaining. I was grinning during his chapter on how babies acquire language.However, if you are even slightly interested in linguistics and have read up on the acquisition of language, evolution of speaking, creation of writing, and invention of words elsewhere, this book will come off as very disappointing. The book is completely uncited, so it's not even useful for finding further research.
Review by Silvernfire
16/06/2015
This is a fine introductory book on language and linguistics for high school students, or perhaps middle school students. But I ended up buying and reading it myself because it was written by David Crystal, whose other works I've enjoyed, and nothing about this book's cover suggested that it was for a younger audience (it's published in the U.S. by Yale University Press—not a major children's book publisher!). If you know anything about linguistics already, it's likely to bore you. For that matter, even if this is a completely new subject to you, I'd suggest finding one of Crystal's other books or another introduction to linguistics intended for adults. The book itself isn't badly written or inaccurate, it's just not suitable for many adult readers.