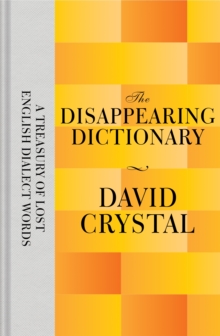 The Disappearing Dictionary : A Treasury of Lost English Dialect Words
Hardback
Description
Wherever you go in the English-speaking world, there are linguistic riches from times past awaiting rediscovery.
All you have to do is choose a location, find some old documents, and dig a little.
In The Disappearing Dictionary, linguistics expert Professor David Crystal collects together delightful dialect words that either provide an insight into an older way of life, or simply have an irresistible phonetic appeal.
Like a mirror image of The Meaning of Liff that just happens to be true, The Disappearing Dictionary unearths some lovely old gems of the English language, dusts them down and makes them live again for a new generation. dabberlick [noun, Scotland] A mildly insulting way of talking about someone who is tall and skinny. 'Where's that dabberlick of a child?' fubsy [adjective, Lancashire] Plump, in a nice sort of way. squinch [noun, Devon] A narrow crack in a wall or a space between floorboards. 'I lost sixpence through a squinch in the floor'.
Information
Format: Hardback
Pages: 320 pages
Publisher: Pan Macmillan
Publication Date: 01/05/2015
Category: Dialect, slang & jargon
ISBN: 9781447282808
Other Formats
Paperback from £6.65
EPUB from £3.99
Free Home Delivery
on all orders
Pick up orders
from local bookshops
Reviews
Showing 1 - 1 of 1 reviews.
Review by atticusfinch1048
27/08/2015
The Disappearing Dictionary – A Gem of a BookThe Disappearing Dictionary by David Crystal is a gem of a book and a reminder that the English language is always changing and developing and sometimes we can be divided by our own common language. This book is so well written by a linguistic Professor David Crystal that he reminds us of our many dialects that are slowly dying on the vine, and he has made this book so accessible for the general reader.This is not the sort of book that you sit down and read in a sitting it is meant to be browsed and enjoyed like a fine wine. As one can read what at times are words that may die if we do not use them. One just has to think of the amount of dialects that are around Britain and the richness that it brings to our language. In this book are the words some may recognise are just a prompt us to reuse and enjoy. This is a perfect antidote to the modern scourge of English in the form of text speak, lolz and all that!David Crystal has used as his model for this book the self taught Oxford Professor Joseph Wright who wrote a six volume English Dialect Dictionary between 1895 and 1905. This lexicon of our language is used to help Crystal furnish us with some beautiful but sadly forgotten words. So we should be ernful (Sad, lamentable, sorrowful) about the death of these words because they add depth and complexity to English which helps to make it so rich.As someone who thinks English is licksome (pleasant, agreeable, amiable, and neat) to express both verbally and on paper. This is one of the reasons why English is so widely used around the world as there are so many beautiful words for expressing yourself, your feeling and the feelings of others. So as an Englishman whose haveage (race, lineage, family stock) is of Eastern European as well as English I love to see the language used and abused, developed and remembered. This is a truly wonderful book a real gem one that I will always keep picking up and trying to drop various words in to conversations or any of my writings. So I like the idea of the English language being fubsy (plump in a nice way) that there are so many words we should use and not allow to die out. We should not be ashamed of the idiosyncrasies of our language but embrace them.This really is a wonderful addition to anyone's bookshelves and I hope you too will enjoy dipping in to forgotten gems and using them when you can.