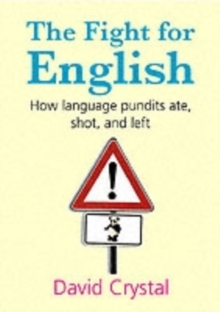 The Fight for English : How Language Pundits Ate, Shot, and Left
Hardback
Description
Lynne Truss's 'Eats, Shoots and Leaves' injected new life into the long-standing arguments over rights and wrongs in English usage.
Now David Crystal brings together his own distinctive style and unique expertise to provide the first thorough-going assessment of the ongoing debate. With a lively, humorous, and accessible approach, Crystal charts the battles past and present, illustrating the characters and attitudes involved from a wide range of written sources.
He combines a chronological survey of key influences in the area of usage with discussion of particular themes such as punctuation, spelling, and pronunciation. And he looks ahead to the future in the context of recent education policy shifts. A positive and compelling case is made for variation in usage of English based on appropriateness of situation, arguing that 'zero tolerance' in relation to language is a profoundly flawed approach.
Crystal offers an original and authoritative counter-argument to the prescriptivist agenda that has been expounded in many accounts of English usage over the years. The Fight for English is the book that everyone concerned with English usage has been eagerly awaiting.
Information
Format: Hardback
Pages: 256 pages
Publisher: Oxford University Press
Publication Date: 07/09/2006
Category: Usage & grammar guides
ISBN: 9780199207640
Free Home Delivery
on all orders
Pick up orders
from local bookshops
Reviews
Showing 1 - 3 of 3 reviews.
Review by LynnB
16/06/2015
Having read, and enjoyed, Eats Shoots and Leaves, I just had to read this one. The subtitle hooked me: "How language pundits ate, shot, and left".David Crystal argues against a "zero tolerance" approach to punctuation changes and other evolutions in the English language. Language has evolved for centuries; the only languages that don't evolve are dead. Mr. Crystal chronicals some of the evolutions in usage, pronunciation, spelling and punctuation. He argues that the understanding of changes and of the appropriatness of different usages in different contexts is more important than learning strict rules of grammar. I agree...although I still get angry when I see a sign in a parking lot saying "small car's only"!
Review by Katya0133
16/06/2015
A must for any descriptivist who's constantly fighting battles against language prescriptivism.
Review by Schopflin
16/06/2015
A simply, but entertainingly-written reposte to language pedants. Crystal manages in this short book to cover the history of and main arguments for and against correct usage. His own view - that language use should suit its context and that while there are rules for language use, clarity of meaning is most important - is well laid-out. Crystal is not the 'anything goes' relativist he has been depicted as, and while he points out the faults he sees in books by Lynne Truss and John Humphreys, he is also hugely sympathetic to their motivations.