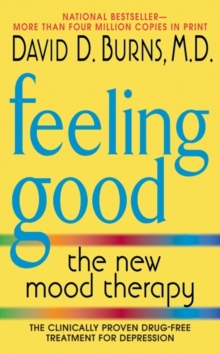 Feeling Good : The New Mood Therapy
Paperback
Description
The good news is that anxiety, guilt, pessimism, procrastination, low self-esteem, and other "black holes" of depression can be cured without drugs.
In Feeling Good, eminent psychiatrist, David D. Burns, M.D., outlines the remarkable, scientifically proven techniques that will immediately lift your spirits and help you develop a positive outlook on life.
Now, in this updated edition, Dr. Burns adds an All-New Consumer's Guide To Anti-depressant Drugs as well as a new introduction to help answer your questions about the many options available for treating depression. - Recognise what causes your mood swings - Nip negative feelings in the bud - Deal with guilt - Handle hostility and criticism - Overcome addiction to love and approval - Build self-esteem - Feel good everyday
Information
Format: Paperback
Pages: 736 pages
Publisher: HarperCollins Publishers Inc
Publication Date: 03/03/2000
Category: Family & health
ISBN: 9780380810338
Free Home Delivery
on all orders
Pick up orders
from local bookshops
Reviews
Showing 1 - 4 of 4 reviews.
Review by lunaverse
16/06/2015
This book came recommended to me by a therapist. This is THE consumer-level book for Cognitive Behavior Therapy. The basic premise behind this school of therapy, is that thoughts lead to feelings, and feelings lead to thoughts, causing a feedback loop. If you change your thoughts, your feelings will also change.This has been as successful as medication in clinical treatments for depression and anxiety.I didn't even have to finish this book to find relief. I identified the negative thoughts and self-images I had (one by one because there were many) replacing them with positive thoughts. Most of the depression/anxiety went away quickly. Over the years, I've had to find the more subtle, clandestine thoughts, and replace them, too.A great book, recommended to anyone suffering from chronic emotional pain.
Review by aron124
16/06/2015
It's a helpful at dealing with depression and/or anxiety. Plus, some of what Burns discusses is how to avoid overgeneralization, all or nothing thinking, and perfectionism. His cure for dealing with perfectionism is striving to be average. This is a challenge for me, yet I discovered it makes life less stressful, and I feel better.
Review by austinbarnes
16/06/2015
I love both the Feeling Good books; reading them has helped me through depressed days more than any other therapeutic resource.
Review by LisaMaria_C
16/06/2015
This therapy is grounded in a theory of psychology that at the root of emotional troubles are distorted thinking. Untwist the thinking, the rest follows. I think there's a lot of truth in this take on psychology. All of us run "scripts" in our heads. Naturally if you put yourself down, keep saying in your mind that a situation is hopeless, the emotions will follow. At the same time this isn't a book of trite affirmations where you chant, "I am awesome." But it does point out that while you can't always control your situation, particularly other people--you can to some extent control what you think about it, and thus how you feel about it. To that end he identifies unhealthy habits of mind such as All-or-Nothing Thinking, Overgeneralization, Mental Filter (negativism), Disqualifying the Positive, Jumping to Conclusions, The Fortune Teller Error, Magnification and Minimization, Emotional Reasoning (Feelings are not facts), Should Statements ("I <i>should</i> ____"), Labeling and Mislabeling, Personalization ("It's <i>my</i> fault!"). The rest is elaborations, explanations and exercises, but that's it in a nutshell. And no, you're not going to end depression just by reading it--you have to put it into practice. Just as you don't gain muscles by just reading a book about weight training. And some people may need more--therapy, medication. But I do find learning about the common distortions in thinking and more rational responses does help.