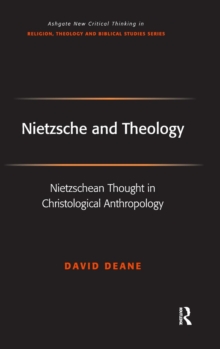 Nietzsche and Theology : Nietzschean Thought in Christological Anthropology
Hardback
Description
Theology has always viewed Nietzschean thought with a sideways glance, never quite sure what to make of it.
Where serious engagement has occurred it has tended to either reject such thought outright or to accept it to such an extent that it loses its identity as Christian theology. This book outlines a model for incorporating Nietzschean thought within the structures of a wholly traditional Christological anthropology.
What is perhaps even more significant is what shows up in Christological anthropology under this Nietzschean light.
Using Nietzschean concepts a whole new lexicon is opened up for understanding and articulating traditional accounts of sin and fallenness, accounts which modern theology has often lacked the categories to articulate. The book culminates in a doctrine of reconciliation which is given urgency and coherence precisely through such reinvigoration of traditional accounts using Nietzschean thought.
Information
Format: Hardback
Pages: 206 pages
Publisher: Taylor & Francis Ltd
Publication Date: 16/10/2006
Category: Philosophy of religion
ISBN: 9780754657675
Other Formats
Paperback / softback from £39.19
EPUB from £39.59
PDF from £39.59
Also by David Deane