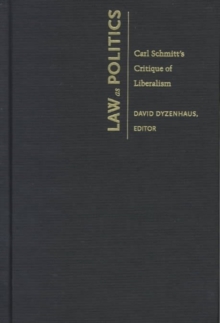 Law as Politics : Carl Schmitt's Critique of Liberalism
Hardback
Description
While antiliberal legal theorist Carl Schmitt has long been considered by Europeans to be one of this century's most significant political philosophers, recent challenges to the fundamental values of liberal democracies have made Schmitt's writings an unavoidable subject of debate in North America as well.
In an effort to advance our understanding not only of Schmitt but of current problems of liberal democracy, David Dyzenhaus presents translations of classic German essays on Schmitt alongside more recent writings by distinguished political theorists and jurists.
Neither a defense of nor an attack on Schmitt, Law as Politics offers the first balanced response to his powerful critique of liberalism. One of the major players in the 1920s debates, an outspoken critic of the Versailles Treaty and the Weimar Constitution, and a member of the Nazi party who provided juridical respectability to Hitler's policies, Schmitt contended that people are a polity only to the extent that they share common enemies.
He saw the liberal notion of a peaceful world of universal citizens as a sheer impossibility and attributed the problems of Weimar to liberalism and its inability to cope with pluralism and political conflict.
In the decade since his death, Schmitt's writings have been taken up by both the right and the left and scholars differ greatly in their evaluation of Schmitt's ideas.
Law as Politics thematically organizes in one volume the varying engagements and confrontations with Schmitt's work and allows scholars to acknowledge-and therefore be in a better position to negotiate-an important paradox inscribed in the very nature of liberal democracy. Law as Politics will interest political philosophers, legal theorists, historians, and anyone interested in Schmitt's relevance to current discussions of liberalism.Contributors.
Heiner Bielefeldt, Ronald Beiner, Ernst-Wolfgang Bockenforde, Renato Cristi, David Dyzenhaus, Robert Howse, Ellen Kennedy, Dominique Leydet, Ingeborg Maus, John P.
McCormick, Reinhard Mehring, Chantal Mouffe, William E.
Scheuerman, Jeffrey Seitzer
Information
Format: Hardback
Pages: 336 pages
Publisher: Duke University Press
Publication Date: 20/12/1998
Category: Political science & theory
ISBN: 9780822322276
Free Home Delivery
on all orders
Pick up orders
from local bookshops