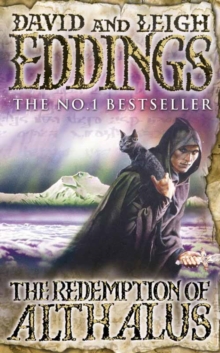 The Redemption of Althalus
Paperback
Description
A fabulous brand new Eddings standalone fantasy, set in an entirely new magical world. Burglar, armed robber and sometime murderer, our hero Althalus is commissioned to steal a book from the House at the End of the World by a mysterious cloaked stranger named Ghend.At the House at the End of the World, he finds a talking cat... in the same room as the book Ghend described. What he can't find once he's in the house is the door by which he entered.
Only 2467 years and an ice age later does Althalus re-emerge with the cat, Emmy.
He's read the book written by the god Deiwos, whose evil brother Daeva is trying to unmake the world.
Emmy is in fact their sister and she's setting out to save the world with Althalus to help her.No easy task.
First there is a quest to unearth the magical knife that will enable Emmy to assemble her band of essential helpers: Eliar (young soldier), Andine (leader of a small country), Bheid (black-robed priest), Gher (ten-year old orphan), Leitha (telepath/witch).Battles follow against Gelta the Queen of Night and the armies of Daeva involving many devious manoeuvres in and out of the House where Doors can be opened to any place at any time.
Daeva has his Doors, too. When Daeva can't win through battle, he tries revolution.
When Dweia (Emmy) can't win any other way, Althalus will persuade her to lie, cheat and steal - reciprocating the lessons in truth, justice and morality Emmy has been giving him for some while.The existence of the world hangs in the balance and love cannot be guaranteed to triumph in this glorious epic fantasy.
Information
Format: Paperback
Pages: 928 pages
Publisher: HarperCollins Publishers
Publication Date: 01/07/2001
Category: Science fiction
ISBN: 9780006514831
Free Home Delivery
on all orders
Pick up orders
from local bookshops
Reviews
Showing 1 - 4 of 4 reviews.
Review by felius
16/06/2015
Formulaic fantasy. It's still a good formula, though I confess to tiring a bit of the sameness of the Eddings' books.This is a single-volume epic - a fat novel with the standard quest for a remarkably "human" deity. It had the usual Eddings' treatment and stereotyping of gender relationships.Perhaps I was in a bad mood when I wrote this review.. It's not a *bad* book, but not a brilliant one either.
Review by ds_61_12
16/06/2015
The godess Dweia hires the masterthief Althalus to help her in the battle against her brother Daeva. They strike a deal: she will learn him morality, honesty etc. and he will learn how to lie, cheat and steal.Fun read, but it is possible to get an overdose of Eddings (especially since his series are often very alike).
Review by Aldrea_Alien
16/06/2015
Another good book full with good, gritty characters.
Review by soliloquies
16/06/2015
Abandoned. The general idea for this book was good, thief teams up with Goddess and they try to stop the minions of evil. But, the execution was poor. There were 47583 characters and the book may as well have been a play because it was so dialogue heavy. It also got very tedious them jumping to various battles through the House. And don't get me started on Emmy saying "pet" nearly every line.