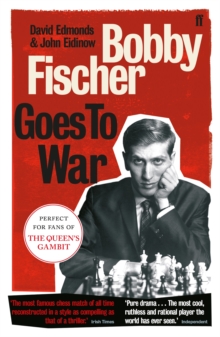 Bobby Fischer Goes to War
Paperback
Description
'The most famous chess match of all time reconstructed in a style as compelling as that of a thriller.'Irish TimesFor decades, the USSR had dominated world chess.
Evidence, according to Moscow, of the superiority of the Soviet system.
But in 1972 along came the American, Bobby Fischer: insolent, arrogant, abusive, vain, greedy, vulgar, bigoted, paranoid and obsessive - and apparently unstoppable.Against him was Boris Spassky: complex, sensitive, the most un-Soviet of champions.
As the authors reveal, when Spassky began to lose, the KGB decided to step in . . . 'The authors build to a crescendo with fascinating details, taking the reader inside the two camps in Reykjavik . . . General readers will savor a marvelous portrait of East against West, with perceived societal superiority as the real prize.' Kirkus Reviews'Pure drama . . . The most cool, ruthless and rational player the world has ever seen.' Independent 'Fischer seemed to thrive on complaints, tantrums and ultimatums, treating the exercise as a game, not of chess but of Chicken . . . It is precisely these factors that make for such a gripping read.' Sunday Times
Information
Format: Paperback
Pages: 320 pages
Publisher: Faber & Faber
Publication Date: 05/08/2004
Category: Biography: general
ISBN: 9780571214129
Free Home Delivery
on all orders
Pick up orders
from local bookshops
Reviews
Showing 1 - 1 of 1 reviews.
Review by PoeticJaffaCake
16/06/2015
To be honest, I have found this book a little bit of a let down.If you are a regular reader here you will know that I have recently resurrected my interest in the game of Chess and this famous World Championship match seemed to be the perfect way to supplement my expanding and widening interest in all facets of the game.But, as I said, I have been disappointed. I found the author to have a plodding, disjointed writing style that doesn't lend itself well to what is a historic match. Instead of distributing the entertainment evenly throughout he some how manages to take away any excitement that could have been had all together.I know you may be asking 'How can a Chess match possibly be exciting?' and I will give you an example of how I think the author gets it wrong. The apparent KGB involvement is hardly mentioned until the very end of the book. Instead of distributing this in relevant places throughout the story, this information is kept for the final chapters as a kind of post-mortem. Maybe it is just me and this really is a great read, but I found it rather dry and lacking in the kind of substance that would have had me plowing through it.I am sure that there are books about this historic event that include a move by move account of the games but it's a cardinal sin, in my opinion, that none of this was included, not even the key games.All in all a big disappointment.