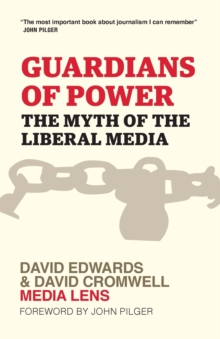 Guardians of Power : The Myth of the Liberal Media
Paperback
Description
"Guardians of Power ought to be required reading in every media college.
It is the most important book about journalism I can remember." John Pilger"Regular critical analysis of the media, filling crucial gaps and correcting the distortions of ideological prisms, has never been more important.
Media Lens has performed a major public service by carrying out this task with energy, insight, and care." Noam Chomsky"Media Lens is doing an outstanding job of pressing the mainstream media to at least follow their own stated principles and meet their public service obligations. [This is] fun as well as enlightening." Edward S. HermanCan a corporate media system be expected to tell the truth about a world dominated by corporations?Can newspapers, including the 'liberal' Guardian and the Independent, tell the truth about catastrophic climate change -- about its roots in mass consumerism and corporate obstructionism -- when they are themselves profit-oriented businesses dependent on advertisers for 75% of their revenues?Can the BBC tell the truth about UK government crimes in Iraq when its senior managers are appointed by the government?
Has anything fundamentally changed since BBC founder Lord Reith wrote of the establishment: "They know they can trust us not to be really impartial"?Why did the British and American mass media fail to challenge even the most obvious government lies on Iraqi weapons of mass destruction before the invasion in March 2003?
Why did the media ignore the claims of UN weapons inspectors that Iraq had been 90-95% "fundamentally disarmed" as early as 1998?This book answers these questions, and more.Since July 2001, Media Lens has encouraged thousands of readers to email senior editors and journalists, challenging them to account for their distorted reporting on Iraq, Afghanistan, Kosovo, Haiti, East Timor, climate change, Western crimes in Central America, and much more.
The responses -- often surprising, sometimes outrageous -- reveal the arrogance, unaccountability and servility to power of even our most respected media.
Information
Format: Paperback
Pages: 256 pages
Publisher: Pluto Press
Publication Date: 20/12/2005
Category: Media studies
ISBN: 9780745324821
Free Home Delivery
on all orders
Pick up orders
from local bookshops
Reviews
Showing 1 - 1 of 1 reviews.
Review by jaygheiser
16/06/2015
The basic point of the authors is that all of the popular media are completely beholden to the power structure, so they are inevitably corrupt. Although non-commercial broadcasters and 'left-leaning' newspapers have moments of liberal freedom, there are unspoken limits beyond which reporters and editors are not allowed to go. The part that resonated the most with me was a section towards the end entitled "Towards a Compassionate Media." Making the very credible claim that compassion is not a part of contemporary news media, they explain "Exploitative pwer has a vested interest in smearing concern for others as 'naive,' 'sentimental,' and 'weak' because it benefits from the promotion of greed, hatred and ignorance." Whether or not you agree with the cause, I think it self-evident that compassion is out of style. This trend is especially significant on Fox, which consistently portrays any form of empathy, other than a shallow sort of sentimentality over relatively trivial stories, as being a form of weakness. A story about a lost puppy can generate more emotion than can a story about killings in Darfur.