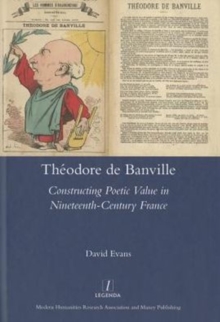 Theodore De Banville : Constructing Poetic Value in Nineteenth-century France
Hardback
Description
Theodore de Banville (1823-1891) was a prolific poet, dramatist, critic and prose fiction writer whose significant contribution to poetic and aesthetic debates in nineteenth-century France has long been overlooked.
Despite his profound influence on major writers such as Baudelaire, Rimbaud, Verlaine and Mallarme, Banville polarised critical opinion throughout his fifty-year career.
While supporters championed him as a virtuoso of French verse, many critics dismissed his formal pyrotechnics, effervescent rhythms and extravagant rhymes as mere clowning. This book explores how Banville's remarkably coherent body of verse theory and practice, full of provocative energy and mischievous humour, shaped debates about poetic value and how to identify it during a period of aesthetic uncertainty caused by diverse social, economic, political and artistic factors. It features a detailed new reading of Banville's most infamous and misunderstood text, the Petit Traitede poesie francaise, as well as extended analyses of verse collections such as Les Stalactites, Odes funambulesques, Les Exiles, Trente-six Ballades and Rondels, illuminated by wide reference to Banville's plays, fiction and journalism.
Evans elucidates not only aesthetic tensions at the heart of nineteenth-century French verse, but also a centuries-old tension between verse mechanisms and an unquantifiable, mysterious and elusive poeticity which emerges as one of the defining narratives of poetic value from the Middle Ages, via the Grands Rhetoriqueurs and Dada, to the experiments of the OuLiPo and beyond.
Other Formats
EPUB from £31.49
PDF from £31.49
Free Home Delivery
on all orders
Pick up orders
from local bookshops