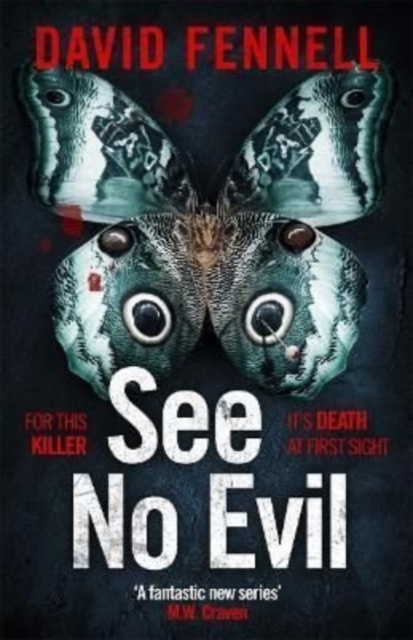 See No Evil : The most twisted British serial killer thriller of the year
Hardback
Description
'Should be at the top of everyone's wish list. Fennell has created one of the most compelling characters in UK crime fiction' - M.W.
CRAVENFOR THIS KILLER IT'S DEATH AT FIRST SIGHT . . . The brilliantly dark new serial killer thriller from one of British crime writing's freshest stars - perfect for fans of Chris Carter, Karin Slaughter and M.W.
Craven. ______________________Two men are found dead in London's Battersea Park.
One of the bodies has been laid out like a crucifix - with his eyes removed and placed on his open palms. Detective Inspector Grace Archer and her caustic DS, Harry Quinn, lead the investigation.
But when more bodies turn up in a similar fashion, they find themselves in a race against time to find the sadistic killer. The hunt leads them to Ladywell Playtower in Southeast London, the home to a religious commune lead by the enigmatic Aaron Cronin.
Archer and Quinn suspect Cronin's involvement but his alibis are watertight, and the truth seemingly buried.
If Archer is to find the killer, she must first battle her way through religious fanatics, London gangsters - and her own demons . . . ______________________What your favourite crime authors are saying about David Fennell:'A truly extraordinary crime novel' - LYNDA LA PLANTE'A stunning start to a fantastic new series' - M.W.
CRAVEN'Involved me in a way that few thrillers do, kept me alert and on-edge right up through the deeply satisfying finale' - AJ FINN'I flew through it . . . Tense, gripping and brilliantly inventive' - SIMON LELIC'Unsettling, fast-paced, suspenseful and gripping . . . Excellent' - WILL DEAN'A serial killer thriller with the darkest of hearts' - FIONA CUMMINS'A tense-as-hell high-body count page turner, but a rarer thing too - one that's also full of genuine warmth and humanity' - WILLIAM SHAW'Chilling, unsettling and wonderfully atmospheric' - BRIAN McGILLOWAYWhat the newspapers said about David Fennell's debut, The Art of Death:'Written with a clear grasp of social media, the story simply bristles with invention - though it is not for the faint hearted' - Daily Mail'You couldn't ask for a more assured if startlingly graphic and gory debut' - Irish Independent'Satisfyingly gruesome fare' - Financial Times
Information
Format:Hardback
Pages:400 pages
Publisher:Zaffre
Publication Date:28/04/2022
Category:
ISBN:9781838776664
Other Formats
Paperback / softback from £9.99
Information
Format:Hardback
Pages:400 pages
Publisher:Zaffre
Publication Date:28/04/2022
Category:
ISBN:9781838776664