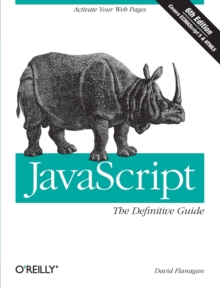 JavaScript: The Definitive Guide
Paperback
Description
Whether you need an example-driven programmer's guide or a complete desk reference, JavaScript: The Definitive Guide is the most authoritative book on the language that runs the Web.
The sixth edition offers comprehensive coverage of ECMAScript 5 (the new language standard) and also the new APIs introduced in HTML5.
The chapters on functions and classes have been completely rewritten and updated to match current best practices.
A new chapter covers language extensions and subsets. JavaScript: The Definitive Guide is organized into four sections: * Part 1: Learn the core JavaScript language in detail -- ideal for newcomers as well as experienced JavaScript programmers who want to sharpen their skills * Part 2: Understand the scripting environment provided by web browsers with broad and deep coverage of client-side JavaScript illustrated by many sophisticated examples * Part 3: Get a complete reference for core JavaScript that documents every class, object, constructor, method, function, property, and constant * Part 4: Consult a separate reference to client-side JavaScript, including legacy web browser APIs, the standard Level 2 DOM API, the XMLHttpRequest object, and the canvas tag
Information
Format: Paperback
Pages: 1100 pages, 1, black & white illustrations
Publisher: O'Reilly Media, Inc, USA
Publication Date: 13/05/2011
Category: Web programming
ISBN: 9780596805524
Free Home Delivery
on all orders
Pick up orders
from local bookshops
Reviews
Showing 1 - 1 of 1 reviews.
Review by zzshupinga
16/06/2015
I was provided access by O'Reilly Publishing to an electronic copy of this book for review purposes.This is an updated edition to the classic reference book on Javascript to include new information on new standards (such as HTML5 and CSS3), conventions, and frameworks. Although it is possible to learn Javascript from this book, its really meant more as a reference guide and an explanation of how and why Javascript works the way it does. For example, the 1st chapter explains in some detail how Javascript works on the client side and how each of the following chapters will relate to this. The book includes numerous examples of codes to illustrate the concepts and explains the concepts in a clear, easy to follow fashion that doesn't require a degree in astrophysics to understand.As I said it's not really a book to learn Javascript from, for that I would recommend something like "Head First JavaScript" (also by O'Reilly press.) What I do really like about this book is that it is comprehensive in what is possible with Javascript. While it may not cover the concept in depth, such as the chapter on Jquery, it does give a starting point to the concept. I know it sounds odd, but I really liked the index. It is completely through and easy to find the concept or word that I need to make something work correctly in whatever I'm writing. It's even better with the book because of the hyperlinks that take you right to the section.My advice? Buy the ebook version, it's much easier to search and to follow to specific links vs. trying to find the stuff in the print edition. Even better, O'Reilly provides multiple formats of the book to suit your needs. Overall, it's a good handy reference to have around to answer questions and introduce new concepts.