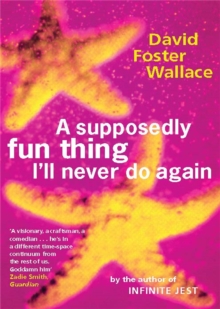 A Supposedly Fun Thing I'll Never Do Again
Paperback
Description
A collection of insightful and uproariously funny non-fiction by the bestselling author of INFINITE JEST - one of the most acclaimed and adventurous writers of our time.
A SUPPOSEDLY FUN THING... brings together Wallace's musings on a wide range of topics, from his early days as a nationally ranked tennis player to his trip on a commercial cruiseliner. In each of these essays, Wallace's observations are as keen as they are funny. Filled with hilarious details and invigorating analyses, these essays brilliantly expose the fault line in American culture - and once again reveal David Foster Wallace's extraordinary talent and gargantuan intellect.
Information
Format: Paperback
Pages: 368 pages
Publisher: Little, Brown Book Group
Publication Date: 05/02/1998
Category: Humour
ISBN: 9780349110011
Free Home Delivery
on all orders
Pick up orders
from local bookshops
Reviews
Showing 1 - 5 of 6 reviews.
Previous | Next
Review by RoboSchro
16/06/2015
"Statisticians report that television is watched over six hours a day in the average American household. I don't know any fiction writers who live in average American households. ... Actually I have never seen an average American household. Except on TV."This is a collection of seven essays originally published between 1992 and 1996, combined into a volume that shows off a good range of Wallace's talents. The subjects covered include tennis, a Midwestern state fair, a Caribbean cruise, literary theory, the film director David Lynch, and the relationship between television and American fiction.Wallace is an extraordinarily clever writer; at times in the past I've thought he indulges himself a little too much in showing this off. Here, for the most part, he doesn't do so. (The essay on literary theory may be impenetrable, but that's true of pretty much all literary theory, to the untutored, and at least it has the virtue of brevity.)Half of the essays see him in the role of outsider observer, going back to the kinds of people and activities that he once left behind to join the east-coast intelligentsia. But he is seldom scornful; although he's clearly glad to have moved away, he still has connections with, and sympathy for, his subjects. His relationships with Trudy on the cruise, and tennis player Michael Joyce, seem as warm as circumstances allow.Wallace has a pleasant style, and uses his wit well. He's able to flit from observations of mundane surroundings, to challenging insights into modern society, and back again, without jarring. One highlight for me was the description of the childrens' baton-twirling contest at the state fair, which had me laughing out loud. Another was his terror of being seen, during the cruise, as part of a herd ("boviscopophobia") -- which I think is rather prevalent in some circles, and which I've never had described so clearly.Highly recommended.
A superlative collection. The two DFW-as-a-pseudo-journalist-goes-somewhere-you-wouldn't-expect pieces for Harper's were indeed fun, but I think I enjoyed the one about Michael Joyce with the long title the most. I'm not a big fan of sports and making watching tennis seem so appealing to me is tantamount to making watching continents move compelling.Not all of the essays were as nifty: "Greatly Exaggerated" I skip-read and "E Unibus Pluram", while it had some insight, was much too long. Oh, look at me, I'm actually accusing DFW of verbosity! How original.His suicide in September 2008 makes it extremely poignant whenever depression or map elimination is mentioned and no doubt changed how we regard his writing. Because it does have a lot of dark moments amid all the hilarity that previously you might have shrugged off.Yeah, well, vis-à-vis the title story, they've built many of those Caribbean cruise liners here in Finland too and in fact the world's largest is being built in Turku as I type. One of the shipyards, not the biggest one though, is right next to my school. Am I being proud? Nah. It's all owned by South Koreans anyway. Still, some of those ships are fucking huge. The biggest ships get exported, of course, but we do have a "healthy" cruising tradition of our own, although with a bit less luxury and pampering. To wit, two-day cruises to Stockholm or Tallinn and back where the ship metastasizes into a bar/sleazy hotel/public toilet on screws and the idea is to drink, vomit and rape as many passed out people as you can. Cultural differences.
Review by snash
16/06/2015
The book is a series of essays, with the ones about TV, the Ill. state fair, and the Caribbean cruise being my favorites. They're full of insightful observations about the mundaneness of life, its pathetic, miserable attempts to entertain itself. They're extremely funny but as the essay about TV points out, criticism and irony alone is hallow and so with time one thinks, is that all there is (just as his essays wonder).
Review by railarson
16/06/2015
While reading this collection of "essays and arguments" by the late David Foster Wallace, I made a list of twenty words I had been lamentably unaware of, as well as two that, apparently, he made up:<em>ablated, anaclitic, appurtenance, belletristic, commissure, decoct, enfilade, erumpent, espial, exergue, frottage, hieratic, lalations, otiose, preterite, sedulous, threnody, titivation, ventricose, weltschmerz</em>Of those 20 words, I have to say that the most amusing discovery for me was <em>frottage</em>, which some of you already know means, "the act of obtaining sexual stimulation by rubbing against a person or object." I'm not here to judge; I'm just sayin'. <em>Erumpent</em> is also pretty fun to say, and could actually be onomatopoetic if you were to listen very, very closely.As for the two Wallacisms that don't seem to exist in the English language, some DFW wiki-tweakers have pointed out that <em>katexic</em> could be derived from Freud's <em>katexis</em> referring to "the process by means of which libido energy is tied or placed into the mental representation of a personality, idea, or thing." In this respect, Wallace's writing <em>in toto</em> could be viewed as katexic. The energy that must have gone into building such a vocabulary and the means to swing it around as effectively as he did could easily be imagined as a primal urge. <em>Plumeocide</em> is another matter. <em>Wordnik</em> member vbogard22 postulated about a year ago that "plumeo- could come from the Latin "<em>pluma</em>," which means feather or pen … added to -<em>cide</em> (Latin, kill) would come to mean something along the lines of 'death of the pen.'" Given Wallace's tragic end by his own hand, the fact that he may have coined a word for the silencing of a writer is prescient and a bit creepy.I was beguiled, beleaguered, and besotted by Wallace's use of language, often all at the same time. In much the same way that Wallace thought he was a decent tennis player until he got the opportunity to view the pros in action, I thought that I could, on occasion, craft a clever line. I see now that there are players out there operating on a whole different plane. I almost forgot to mention that the book is really funny.Cheers to you, Wallace, wherever you are.
Review by flydodofly
16/06/2015
I cannot help but be stunned by DFWs brilliant, digressive mind, and feel so very sorry that he is gone from this world. It is a little like losing a good friend.