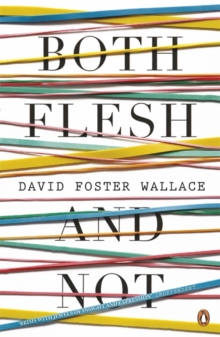 Both Flesh and Not
Paperback
Description
Both Flesh and Not combines David Foster Wallace's best-loved essays with work never before published in the UK.Beloved for his brilliantly discerning eye, his verbal elasticity and his uniquely generous imagination, David Foster Wallace was heralded by critics and fans as the voice of a generation.
Collected in Both Flesh and Not are fifteen essays published for the first time in book form, including writing never published before in the UK.From 'Federer Both Flesh and Not', considered by many to be his nonfiction masterpiece; to 'The (As it Were) Seminal Importance of Terminator 2,' which deftly dissects James Cameron's blockbuster; to 'Fictional Futures and the Conspicuously Young', an examination of television's effect on a new generation of writers, David Foster Wallace's writing swoops from erudite literary discussion to open-hearted engagement with the most familiar of our twentieth-century cultural references.A celebration of Wallace's great loves - for language, for precision, for meaning - and a feast of enjoyment for his fans, Both Flesh and Not is a fitting tribute to this writer who was never concerned with anything less important than what it means to be alive.Praise for Both Flesh and Not: 'Whether dwelling on the real-world implications of metaphysics [or the] pop constructions of pure maths . . . Both Flesh and Not brims with jewels of insight and expression' Independent'At their best these essays remind us of Wallace's arsenal of talents: his restless, heat-seeking reportorial eye; his ability to convey the physical or emotional truth of things with a couple of flicks of the wrist; his capacity to make leaps, from the mundane to the metaphysical, with breathtaking velocity and ardor' Michiko Kakutani, New York Times'Excellent in its entirety and just as quietly, unflinchingly soul-stirring' The Atlantic'There are times, reading his work, when you get halfway through a sentence and gasp involuntarily, and for a second you feel lucky that there was, at least for a time, someone who could make sense like no other of what it is to be a human in our era of "Total Noise"' Telegraph'One of the best writers of our time . . . If you've never read David Foster Wallace before, his masterful study of Roger Federer, included in this anthology, is an ideal place to start' US Marie Claire'A fine collection . . . you could more or less open it at random and find something to demonstrate the man's prodigious' Guardian 'The best passages are those that celebrate words and the author's relationship with them . . . It is a treasure trove for those who love the complexities of language' US TimeoutDavid Foster Wallace, who died in 2008, was the author of the acclaimed novels Infinite Jest and The Broom of the System.
His final novel, The Pale King, was published posthumously in 2011.
He is also the author of the short-story collections Oblivion, Brief Interviews with Hideous Men and Girl with Curious Hair, and his non-fiction includes several essay collections and the full-length work Everything and More.
Information
Format: Paperback
Pages: 336 pages
Publisher: Penguin Books Ltd
Publication Date: 05/09/2013
Category: Literary essays
ISBN: 9780141046754
Free Home Delivery
on all orders
Pick up orders
from local bookshops
Reviews
Showing 1 - 1 of 1 reviews.
Review by JonArnold
16/06/2015
Foster Wallace's last essay collection is, of necessity, weaker than his previous two. Those had the luxury of cherry picking his finest work to the point at which they were published. Both Flesh And Not is therefore left to round up odd pieces and pieces published before his death. This means it's far less even than its predecessors, things as brief and not particularly revelatory as 'Mr Cogito' and 'Overlooked' don't add much insight to either the author or the wider world. But these are only slight works, bagatelles. Instead, when he has the space to dazzle we have the semi-eponymous essay about the beauty of Roger Federer's tennis, one of his finest works, an essay on the first two Terminator films which explains a lot about the state of modern film making (even in the present day) and essays reviewing a Borges biography (which explains Borges' greatness and the idiocy of much literary biography) and an introductory essay to the Best American Essays of 2007. What these have in common is showing off what made him a great modern essayist – a breadth of knowledge, sly humour and command of the English language few writers can parallel. Not a flawless collection then, but as what flaws there are arise from circumstance and editorial decisions they don't reflect on the author. Banality there may be in places, but it's far outweighed by the author's typical casual brilliance.