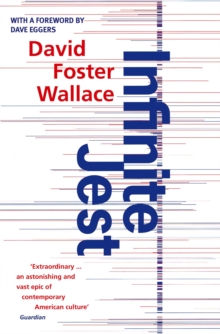 Description
Somewhere in the not-so-distant future the residents of Ennet House, a Boston halfway house for recovering addicts, and students at the nearby Enfield Tennis Academy are ensnared in the search for the master copy of INFINITE JEST, a movie said to be so dangerously entertaining its viewers become entranced and expire in a state of catatonic bliss . . . 'Wallace's exuberance and intellectual impishness are a delight, and he has deep things to say about the hollowness of contemporary American pleasure . . . sentences and whole pages are marvels of cosmic concentration . . . Wallace is a superb comedian of culture' James Wood, GUARDIAN
Information
Format: Paperback
Pages: 1104 pages
Publisher: Little, Brown Book Group
Publication Date: 05/06/1997
ISBN: 9780349121086
Free Home Delivery
on all orders
Pick up orders
from local bookshops
Reviews
Showing 1 - 4 of 4 reviews.
Half way through the book, which is still a lot of pages should have told you if you would like the book or hate it.It is that kind of a book. So far, I found the writer quite brilliantly putting images into my mind and make me a "witness" to all these happening in the book. The NA meeting with the guy who are so forceful in giving another person hug, to the house that the father moving a mattress with the help of his grown son. It is that kind of the book. I like the way it make me remembers bits and pieces as if I'm entering another's mind and getting bits and pieces of memories. If you like it, it is great as it takes it times to get to the point and add a lot of details that you might like but it is not important that you remembered them all. Also, as it got a lot of pages, it wouldn't end too soon if you like it.If you don't like it after giving it a good try, then you might meet someone who really like it, and thought you have been spoon fed information for too long to appreciate this kind of work. That's person is not me. I understand as I like it, but I also get why people don't. So it is the kind of love it or not care for it kind of book. It is probably unfair that I rush off the last 200 pages or so. It is getting late and I do wanted to finish this heavy book and not carrying around any more. It is just brilliant how the writer tied up the book and end it. It is not plot base, the characters in the books become real, and as if you know so much details of the characters that what happened to them become real to you too.You could argue that this is what a good non cardboard characters book should be like. And I would agree with you. If you stick to this this far, the characters have become real, and no matter if you like the ending or not, this is the end of the book and the end of them too. Enjoy. For those who didn't give up after the first 200 pages, it is a worthwhile read.
Review by wester
27/01/2016
I suppose the visceral reaction I have to a lot of the situations in the book is a sign of writing skill. It just does not make me want to finish this book (I read about 80 pages). All the situations are bleak, dismal and hopeless, and often disgusting. It's really beyond me how anyone could find this book funny. Possibly it's necessary to be male to enjoy it - I have a vague suspicion this book would fail the Bechdel test.
Review by alexrichman
16/06/2015
Brilliant. At 1,100 pages it's almost comically endless, but also endlessly comic, packed with sentences that span whole pages and mix mind-bending polysyllables with juvenile asides and inventive slang. Its predictions of modern media and technology are impressively prescient ... but then, when everything else about the book is so impressive, why should we be surprised? Some sections are less thrilling than others, to be sure. And the focus on ennui, addiction and depression could have one yearning for a bit more external drama to balance out the internal anguish. But the reward of drawing together the many, many strands that seem so chaotically splayed at first is so rewarding that it's hard to feel anything but love for this book.
Review by worldsworstbutterfly
16/06/2015
I think I should count reading this book as an accomplishment of sorts... like, it should have a special place in my CV and everything.<br/><br/>It's been four(ish) days since I've finished reading this book, four days which I've spent trying to put at least some of my impressions into words which would hopefully form at least somewhat coherent sentences. Well, I give up. It is simply impossible to sum up my impressions, mostly because, apparently, there aren't any impressions to sum up, or – somewhat more likely – there are far too many impressions than I'm prepared (and equipped) to deal with at the moment. To put it in a less annoying manner – just thinking about my thoughts about this book is just so dashed overwhelming.<br/><br/>That's not to say I don't have any opinion whatsoever about <s>whatever the thing that I read is</s> this novel – it's just that all my current opinions/impressions tend to be rather contradictory. For example, at the moment, I'm utterly unable to figure out whether I actually loved it or hated it... or, not impossibly and far more likely – both. I'm not even sure whether I enjoyed reading it at all – I have a rather vague impressions I sort of did, but not in the traditionally accepted meaning of the word.<br/><br/>The only thing I'm certain of is that I utterly loved/hated the ending... mostly because it was <i>so</i> spectacularly inconclusive and unsatisfying on <i>so</i> many levels that it still irks me to no end, albeit in a possibly pleasant-ish way.<br/><br/>In any case, five stars are for the overall feat or whatsit – it made my brain ache at various stages... and any book capable of doing that deserves five stars... and a biscuit.