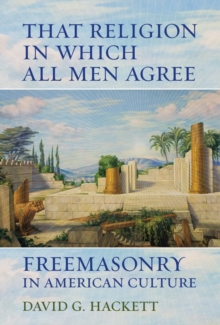 That Religion in Which All Men Agree : Freemasonry in American Culture
Hardback
Description
This study weaves the story of Freemasonry into the narrative of American religious history.
Freighted with the mythical legacies of stonemasons' guilds and the Newtonian revolution, English Freemasonry came to colonial America with a vast array of cultural baggage, which was drawn on, added to, and transformed in different ways in its sojourn through American culture.
David Hackett argues that from the 1730s through the early twentieth century the religious worlds of an evolving American social order broadly appropriated the changing beliefs and initiatory practices of this all-male society.
For much of American history, Freemasonry was a counter and complement to Protestant churches and a forum for collective action among racial and ethnic groups outside the European American Protestant mainstream.
Moreover, to differing degrees and at different times, the cultural template of Freemasonry gave shape and content to the American "public sphere."By expanding and complicating the terrain of American religious history to include a group not usually seen to be a carrier of religious beliefs and rituals, That Religion in Which All Men Agree shows how Freemasonry's American history contributes to a broader understanding of the multiple influences that have shaped religion in American culture.
Information
Format: Hardback
Pages: 336 pages
Publisher: University of California Press
Publication Date: 21/03/2014
Category: History of the Americas
ISBN: 9780520281677
Other Formats
Paperback / softback from £17.89
EPUB from £22.68
Also by David G. Hackett