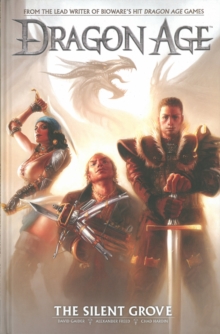 Dragon Age Volume 1: The Silent Grove
Hardback
Information
Format: Hardback
Pages: 80 pages, 1 Illustrations, unspecified
Publisher: Dark Horse Comics,U.S.
Publication Date: 24/07/2012
Category: Fantasy
ISBN: 9781595829160
Free Home Delivery
on all orders
Pick up orders
from local bookshops
Reviews
Showing 1 - 4 of 4 reviews.
Review by studentvictory
16/06/2015
The Silent Grove is (I'm assuming) created to be a link between the events of Dragon Age II and the upcoming sequel. While this property cannot stand on its own, it -does- stand strong along side the other canon supplements. Grove creates many more questions than it answers, however, I suppose that is the nature of this particular beast. I was perhaps most impressed with the depiction of Isabela, as the artwork steps away from the long held tradition of gratuitous fan shots and does a fantastic job of keeping focused on the action. As a longtime fan of the series, I cannot wait for the questions raised to be answered and Gaider, as usual, keeps me guessing despite all of the hints and clue laid out before me. That being said, it is definitely not a jumping off point for someone looking to get into the series.
Review by sszkutak
16/06/2015
Background: King Alistair sets out on a dangerous quest with the pirate Isabela and Varric Tethras. While on the move, they encounter thieves, assassins, witches, and dragons. Quests can't be easy.Review: I did not play the Dragon Age games, however I have friends that did as well as my husband, which means I watched a lot of people play. The characters from the games are very well depicted here in this graphic novel. Alistair is a very interesting personality, a king, but not afraid to do things himself. The illustrations are beautiful, using a full range of colors and the details are amazing. The adventures of Alistair, Isabela and Varric are entertaining, and there are dragons, and you cannot go wrong with dragons. If you liked the games or if you enjoy a good graphic novel, this is for you. And it is a pretty short read, only 83 pages. Enjoy.
Review by MichelleL_15
16/06/2015
Before I start my review I just wanted to say that I have never read any other Dragon Age books or played any of the games and I have no knowledge of the Dragon Age world. That's probably one reason why I didn't enjoy it very much. I saw it on Netgalley and thought it looked interesting so I requested it.This was clearly a fantasy book so I should have expected a complicated world with lots of made up words. If I kept up with Dragon Age I would understand what was happening, but I don't so for the first half of the book I was confused as to what was happening.I had no idea who the characters were, but their roles were easy enough to grasp. Alistair is a king who doesn't think he should be king. Isabela is a feisty pirate and Varric is a cocky, gruff dwarf. Seems like an odd group, but it made for an interesting adventure.The artwork is great. Sometimes I felt like it wasn't very good, but it's nicely detailed. I especially loved the dragon; it looked awesome. But trying to read this on my iPad (using the BAM Reader app) was just painful. The words were blurry and it was zoomed in far too much. I think the artwork would have looked nicer if I could have zoomed out a little.The story is interesting, the world is well developed, and the characters are complex. I think for fans if this story this would be an enjoyable comic. For me it was just really confusing.
Review by catfantastic
16/06/2015
A pretty standard tie-in product. I bought it because the sexy pirate Isabela was one of my favourite characters from the game. The dialogue and interactions between the characters are well done here. The art is professional and identical to the character designs from the games, but it wasn't exceptional. This comic is a fun treat if you're a fan of the games, but there's nothing really mind blowing about it.