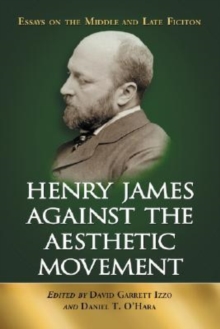 Henry James Against the Aesthetic Movement : Essays on the Middle and Late Fiction
Paperback / softback
Description
Writer Henry James (1843-1916) was born in America but preferred to live in Europe; he finally become a British subject near the end of his life.
He was criticized for leaving his home country, but this status as a permanent outsider is probably responsible for the recurring themes in his writing dealing with European sophistication (decadence) compared to American lack of sophistication (or innocence).
He is respected in modern times for his psychological insight, for being able to reveal his characters' deepest motivations.
These 11 essays, along with an introduction and an afterword, examine James's work through a prism of original creation in the founding basis of art.
James's writing can be divided into three phases, and these essays probe the author's late style, the third phase best known for its weighty and ponderous sentence structure.
Topics the contributing authors address include the Henry James revival of the 1930s, three of James's male aesthetes, women in his works, literary forgery, and parallels with the career and views of Margaret Oliphant.
Three essays delve into issues of representation in art and fiction, then three more explore decadence, identity and homosexuality.
Free Home Delivery
on all orders
Pick up orders
from local bookshops