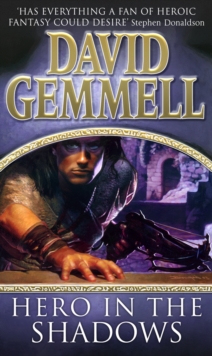 Hero in the Shadows
Paperback
Description
Thousands of years ago the city of Kuan Hador, a place steeped in evil, was defeated by a vast army of mystic warriors, the Enemy banished beyond the Gateway between Worlds.
Spells of enormous power sealed the Gateway. Now, in the Duchy of Kydor, two thousand miles from the lands of the Drenai, icy mists begin to form around the ruins of Kuan Hador.
Awesome Beasts stalk the hills and forests. The spells are fading, the days of blood drawing nearer.
Beyond the Gateway the vengeful armies of Kuan Hador await. And where years before a host stood against the Enemy, now only a handful of warriors prepare to face it once more.
Kysumu the Swordsman, last of a dying breed, Yu Yu Liang, the ditch digger, Ustarte, the Beast-Priestess, and the mysterious Waylander.
Together they must solve an ancient mystery, which will bring the dead to life for a final battle outside Time.
But first Waylander must find a way to kill a man who cannot die.
Information
Format: Paperback
Pages: 448 pages
Publisher: Transworld Publishers Ltd
Publication Date: 05/10/2000
Category: Science fiction
ISBN: 9780552146746
Free Home Delivery
on all orders
Pick up orders
from local bookshops
Reviews
Showing 1 - 3 of 3 reviews.
Review by BeezerMN
16/06/2015
Hero in the Shadow is the next book in the Drenai Saga, I believe it is book 9 in the series. For people who have little to no idea who David Gemmell is, you are in for a treat as you embark on this incredible journey through his plethora of novels. The first book in this saga is simply titled Legend (Drenai Tales, Book 1). It's a great read and one that starts a grand adventure. If you have not read Waylander (Drenai Tales, Book 4) and In the Realm of the Wolf (Drenai Tales, Book 5) by Gemmell you really need to at least read those two before reading this one. It will add much more depth to the main character and the demons he carries with him. This novel actually has many plot layers to it. The main plot involves attempting to stop an invasion by demons in the land. This takes on many interesting turns and provides a brief history lesson to some things that have been mentioned in earlier books. Some of the sub-plots involve very emotional pieces such as Waylander's personal demons, Chardyn doubting his belief in the Source, Ustarte wanting to prevent deeds from happening, and a few more I won't mention due to being possibly spoilers. I think it is safe to say that no matter what type of fantasy books you enjoy there will be something in this novel for everyone. There are large scale battles, there are political underpinnings, there is the human element of striving for goals, there is revenge and retribution, but most importantly the story itself is well written and highly entertaining. Mr. Gemmell has a knack for writing very engaging characters. Every character seems to be the most important character in the novel when they are on the page. Main characters such as Waylander and Eldicar all the way to minor characters such as Matze Chai and Lalitia. Gemmell imbues each of these characters with very real elements that allow the reader to love or hate them at the reader's discretion. Also, the character development in this novel is second to none. From where Walyander starts in the novel to where he ends up is simply fantastic. The journey the priest Chardyn undertakes in his search for believing in the Source is very good as well. Rarely in fantasy books is an author able to capture both great characters and a great plot. Mr. Gemmell has done just that in this novel. When picking up a Gemmell book it is much like putting on a pair of old shoes, it's comfortable and you know just what to expect. While Mr. Gemmell may not write epic plots like G.R.R. Martin his novels are certainly worth while. His prose allows for an ease of reading. He doesn't use the flowery language one can expect from, say Tolkien. His books are much like he was in life, to the point and honest. If you are a fan of the fantasy genre and have not yet read a Gemmell book you are doing yourself a tremendous disservice. Take a chance and pick up Legend today and maybe you will continue on in this saga as I have. I will surely recommend these books to many fantasy fans.
Review by kale.dyer
16/06/2015
Again, I am thinking Gemmel overload stopped me from enjoying this as much as I may have. Nice to read a book about Waylander though.
Review by SonicQuack
16/06/2015
Waylander is without any doubt one of the most fascinating anti-heroes ever created. Previous books follow the path from his creation as an assassin and his journey to achieve redemption with expert character development from Gemmell. In the final volume Waylander is set to journey across the sea in a final attempt to be alone and contemplate life; for he is old now, grey and ready to receive the Source. Gemmell has other plans for Waylander. Following on from the demon story created in a previous Drenai novel, Winter Warriors, Hero in the Shadows once more plunges heroes against magic, although Gemmell has crafted this tale with it's roots firmly in action and development of the new heroes, who fight alongside Waylander. The magic used here is insidious and the the body count just keeps rising! There are strong emotional currents throughout and Gemmell weaves action, tension, mystery, sorcery and the pull of emotions most expertly - Hero in the Shadows is a sublime read. The dialogue is Gemmell's sharpest too, with many wry smiles to be had with Waylander's dark retorts. Recommended to any fantasy reader, although previous Drenai novels (especially the Waylander ones and Winter Warriors) would create a perfect backdrop.