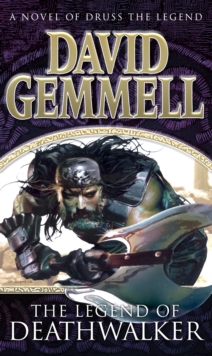 LEGEND OF DEATHWALKER_ THE
Paperback
Description
For centuries the tribes of the Nadir have suffered under the despotic tyranny of their Gothir overlords.
Disunited and distrustful of one another the tribes await the coming of a Messianic warlord, who will unite them against the oppressors.
Into this swirling, chaotic landscape come three men who will change the fate of the continent: Talisman, the mysterious, enigmatic Nadir warrior, haunted by his past and filled with dreams of finding the Uniter; Sieben the Poet, searching for the mysteries of life and love; and Druss the Axeman, determined to find two mystic gems to heal a mortally wounded friend.
Together they will journey across a war-torn land, and descend beyond the gates of Hell, where a long-dead king holds the key to a secret that will change the world.
The Legend of Deathwalker, this battle-charged tale of Druss among the Nadir, completes the circle begun with Legend and Druss the Legend.
Information
Format: Paperback
Pages: 416 pages
Publisher: Transworld Publishers Ltd
Publication Date: 01/04/2003
Category: Fantasy
ISBN: 9780552150811
Free Home Delivery
on all orders
Pick up orders
from local bookshops
Reviews
Showing 1 - 1 of 1 reviews.
Review by eleanor_eader
16/06/2015
Absolutely first rate fantasy tale, and a jewel of the Drenai saga.I've always considered Gemmell's Drenai books to be both grittier and more thoughtful than his other series, and the books that cover the scope of Druss' life have an added element. 'The Legend of Deathwalker' is another example of how he could write much more than well-paced action and hard-pan heroes facing insurmountable odds. From the prologue that finds Druss briefly back on the walls of Dross Delnoch we realise that here is a tale to settle down to, to be enchanted by. It could be Sieben the poet recounting the bouts in the arena, the journey across the nadir steepes and the ferocious battles - and irritated philosophical wrangling - along the way. The characters are perfectly nuanced, varied; the story is richly layered and the pieces of the plot merge seamlessly into something that is more than just a cohesive story of heroes and hard fought battles – they weave a richer thread through the fascinating lore and history of the Nadir, Drenai and Gothir empires and, of course, flesh out the life of Druss himself, Gemmell's most enjoyable and enduring hero.And of course, there's a quest, a rising leader in moral and historical juxtaposition to the corrupt and falling star, a shaman trying to steer the path of destiny and the Nadir are, naturally, fighting amongst themselves... because when Gemmell wields his pen, like a certain axe-man, things are going to get interesting and pointed.