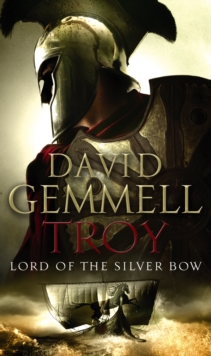 Troy : Lord Of The Silver Bow
Paperback
Description
Three lives will change the destiny of nations. Helikaon, the young prince of Dardania, haunted by a scarred and traumatic childhood.
The priestess Andromache, whose fiery spirit and fierce independence threatens the might of kings. And the legendary warrior Argurios, cloaked in loneliness and driven only by thoughts of revenge.
In Troy, they find a city torn apart by destructive rivalries - a maelstrom of jealousy, deceit and murderous treachery. And beyond its fabled walls blood-hungry enemies eye its riches and plot its downfall.
It is a time of bravery and betrayal; a time of bloodshed and fear.
A time for heroes.
Information
Format: Paperback
Pages: 640 pages
Publisher: Transworld Publishers Ltd
Publication Date: 03/04/2006
Category: Fantasy
ISBN: 9780552151115
Free Home Delivery
on all orders
Pick up orders
from local bookshops
Reviews
Showing 1 - 2 of 2 reviews.
Review by kalyka
16/06/2015
I'm a sucker for historical fiction. So when I stumbled on this book, I just had to grab it. I'm quite glad I did.Written by the late David Gemmel, Troy: Lord of the Silver Bow is his take on the Trojan myth, although set some time before the actual Trojan War. Despite my lack of knowledge of the myth, or perhaps because of it, I was completely mesmerized by Gemmel's interpretation of the legend, and the events that, ultimately, will lead to that famous war.Set in the Antiquity, Lord of the Silver Bow follows three main characters; Helikaon, also known as Aeneas, a young Dardanian prince and captain of the largest ship ever built, named the Xanthos; Andromache, a priestess of the island of Thera and future bride of Hector, and Argurios, legendary warrior, who lives to serve, and is bound by honor.The lands surrounding the Great Green enjoy relative peace, but tension is rising, and the threat of war looms. Pirates are increasingly present, looting, plundering, killing, raping. Most of them are Mykene pirates, publicly condemned by Agamemnon King, but he secretly approves of them, since they increase his already considerable wealth.Many eyes are set on legendary Troy, city of dreams, city of legends, city of heroes. Ruled by Priam King, father to the mythical Hektor, she is said to be the richest and most powerful city of all the Great Green. Her reputation alone feeds the greed of many kings and nobles. However, not is all as it seems; many of Priam's sons and subjects despise their king, and would revel in his downfall, or death.We first see Helikaon at the very beginning of the novel, ready to set sail on the Xanthos, said to be the largest ship ever built. Many are wary of it, but she will prove during her maiden voyage to Troy, that she can swim with Poseidon, God of the Sea. Two Mykene ambassadors sail with him, one of which is Argurios, who is bent on killing the Dardanian Prince out of revenge.Shortly before beaching on the Bay of the Blue Owl, the Xanthos rescues a enigmatic castaway who goes by the name of Gershom. Eventually, she will also bring Andromache to Troy, where she is to wed the mighty Hektor. We also meet Odysseus of the Golden Tongue, he who weaves a tale like no other.The novel strikes a balance between life at sea and life in Troy, each taking the spotlight for much of the story. Ultimately, the main characters become closely involved with each other and the events of the legendary city; the string of events is nothing more than an elaborate game of chess, where people are naught but pawns, where enemies strike alliances, where supposedly loyal allies become treacherous.All the main characters are well developed, each with a well though background story within the novel. We see how Helikaon, with Odysseus' help, became the man he is today. We see how Andromache, fierce, independent, and holding men in contempt, will come to love one of their kind. And Argurios, once a brooding man living to serve his king, will finally find happiness and contentment after many devastating trials.Gemmel, in Lord of the Silver Bow, weaves a wonderfully complex and political tale of morality and values, of love and honour, of duty and betrayal. He brings forth a long list of strong supporting characters, which are very well fleshed out, and none of the characters take the spotlight at the expense of another.The author explores amazingly well the inner conflicts and ulterior motives of all involved; their views on morality, the fine line between right and wrong, between black and white, between good and evil, their struggles with their own emotions and their values, their sense of duty. We see this particularly with Helikaon, who almost becomes mad with revenge, when Mykene pirates torture and murder his best friend, then attack his country and burn his younger brother Diomedes alive.The pacing is almost perfect, as there is a good balance between storms and calm. However, it would have benefited from an additional chapter or two, as it seems to end too quickly, and the thoughts of one of the supporting characters, of whom we see no notice of in the latter part of the book.While this world is blessed with relative peace, rape, murder and savagery are unfortunately very present. War threatens the safety of all, and rivers will turn red with the blood of warriors.This trilogy holds great promise, and I'm already excited to read Shield of Thunder, which is the second installment.
Review by Eyejaybee
16/06/2015
An interesting re-working of the tale of the Trojan War, though rather tedious in parts.