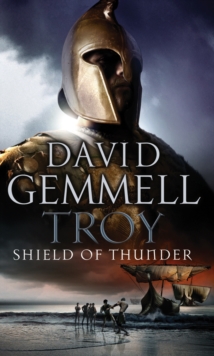 Troy: Shield Of Thunder
Paperback
Part of the Troy series
Description
The war of Troy is looming, and all the kings of the Great Green are gathering, friends and enemies, each with their own dark plans of conquest and plunder.
Into this maelstrom of treachery and deceit come three travellers; Piria, a runaway priestess nursing a terrible secret, Kalliades, a warrior with a legendary sword, and Banokles who will carve his own legend in the battles to come. Shield of Thunder takes the reader back into the glories and tragedies of Bronze Age Greece, reuniting the characters from Lord of the Silver Bow; the dread Helikaon and his great love, the fiery Andromache, the mighty Hektor and the fabled storyteller, Odysseus.
Information
Format: Paperback
Pages: 640 pages
Publisher: Transworld Publishers Ltd
Publication Date: 02/04/2007
Category: Historical fiction
ISBN: 9780552151122
Free Home Delivery
on all orders
Pick up orders
from local bookshops
Reviews
Showing 1 - 1 of 1 reviews.
Review by kalyka
16/06/2015
Right after I reviewed Lord of the Silver Bow, I started reading Shield of Thunder, and have already started Fall of Kings, which I will review as soon as I've finished reading it.Also written by David Gemmel, Troy: Shield of Thunder is set during the events surrounding Andromache's marriage to the Trojan Prince Hektor. Although the story still revolves in great part around Helikaon and his unfulfilled love for the main female character, it is dominated by two characters that have only been mentioned in Lord of the Silver Bow; Kalliades and Banokles, two survivors of the previous attack on Troy.Following the failed attack on Troy and murder attempts, the surviving Mykene return home to face the wrath of Agamemnon King, who orders the remaining soldiers killed. The two protagonists, however, manage to escape and are declared outlaws. During their escape, they save a mysterious woman named Piria, who is on her way to Troy. The three of them manage to gain passage on the Penelope, Odysseus' ship, also en route to Troy. Odysseus, along with most kings of the lands of the Great Green, are to partake in the wedding celebrations surrounding Hektor's wedding to Andromache.Piria carries a great secret with her; she's a runaway priestess of Thera whose real name is Kalliope, daughter of Peleus, father to Achilles. She risks life and limb, and potentially endangers the life of others, to be with the woman she loves; Andromache.In the meantime, Helikaon has been gravely injured by the assassin Karpophorus on the day of his wedding to Queen Halysia. Hanging on to dear life in Troy, he is tended to by Andromache and Gershom, his loyal friend. In the months during which the gravest wound refuses to heal, he seeks out an Egyptian healer, who accepts to tend to Helikaon, in exchange for Gershom's future service. As a result, the legendary warrior, whom Andromache beds in an attempt to help him recover, fully does so in a matter of weeks.Shortly thereafter, she finds out she is pregnant with Helikaon's child. As a result, she seeks out Hektor in order to cancel the wedding, and tell him the unfortunate news. While the warrior doesn't take it well, he understands the situation, and declares a secret of his own; he is impotent. Thus, if Priam finds out Andromache is pregnant, he will have her and the child killed. This is when the future princess of Troy seduces the king of Troy and beds him to save both their lives, and make him think the child is his.During the Wedding Games, treachery abounds, alliances are made, enemies are declared. Agamemnon bribes lesser kings and has them join his cause. Odysseus, whose past is revealed in this novel, is made enemy of Troy, and reluctantly accepts to ally with Agamemnon. Shortly after the wedding celebrations are over, the Mykene king declares war on Troy and its allies.By the end of the novel, three years of war have passed, and Agamemnon is gaining ground...and losing money. Dardania, Helikaon's realm, has fallen, with Halysia killed, Many neighboring cities have also been taken by the Mykene king and his allies. Kalliades and Banokles have been made soldiers of the Trojan Horse following an unsuccessful attempt on Andromache's life, which they have helped save, along with Kalliope, who dies during that skirmish. What happens afterwards is a stunning series of events engineered by long-term planning and long-concealed treachery.The premise of this war is far different than that of The Iliad, although Helen, who is now wife to Paris, has been used as an excuse.Many of the supporting characters who have been less developed in Lord of the Silver Bow now have their place in the spotlight, with their pasts revealed. Sides are clearly taken, although sometimes with much reluctance.The author explores once again some of the character's inner conflicts; Odysseus is now enemies with his closest friends, Andromache, who had promised to herself to be honest and keep her integrity, is now caught in a web of lies, deceit and treachery. Even Kalliades, who had fallen in love with the one woman who could not reciprocate that those feelings, has great difficulty coping with her death.Gemmel weaves yet again a stunning political tale of forbidden love, revenge, honor and duty, and builds up amazingly well the precursor to the war's climax between the Greeks and the Trojans. As threatened in the first novel, rivers flow red, and the lands are soaked with the blood of soldiers and innocent men, women, and children. Ruthlessness, which had only been hinted at in the previous book, is now very present.The balance between war and peace is perfect. Although different from the classic tale, Gemmel perfectly describes the events leading to the Trojan War. The characters are gradually developed, their inner conflicts thoroughly revealed. The manner in which they are changed by the events surrounding them is tangible. The characters are moved to do what is right, but have to do what is necessary to ensure their survival, and that is the main source of their inner struggles.Violence, war, and all of their consequences are now at the forefront, and can only be incessantly present in the third and last installment of this trilogy.