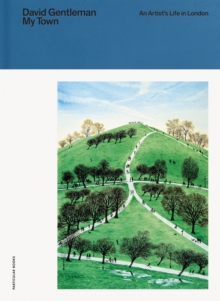 My Town : An Artist's Life in London
Hardback
Description
David Gentleman has lived in London for almost seventy years, most of it on the same street.
This book is a record of a lifetime spent observing, drawing and getting to know the city, bringing together work from across his whole career, from his earliest sketches to watercolours painted just a few months ago. Here is London as it was, and as it is today: the Thames, Hampstead Heath; the streets, canals, markets and people of his home of Camden Town; and at the heart of it all, his studio and the tools of his work.
Accompanied by reflections on the process of drawing and personal thoughts on the ever-changing city, this is a celebration of London, and the joy of noticing, looking and capturing the world. 'David has spent a lifetime depicting with wit and affection a London he has made his own' Alan Bennett 'He delivers a poetry of exultant concentration ...
The surface fusion of the sensuous and the sharply modern is echoed by Gentleman's imagery' Guardian 'The artist and illustrator has been responsible for some of the most-seen public artworks in this country' The Times 'Perhaps the last of the great polymath designer-painters' Camden New Journal
Also by David Gentleman