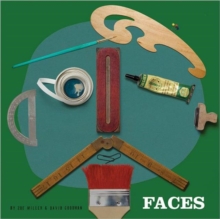 Description
Faces are all around us, everywhere we look. On every page of this inspiring and imaginative book the reader will encounter unusual and creative ways of making faces, using printing, collage, geometric shapes and sculpture.
Surprising details are revealed by lifting flaps, looking through holes or turning the book upside-down.
As well as being entertaining and engaging, "Faces" offers an insight into major modern art movements, including pop art, op art, abstraction, junk art and kinetic sculpture.
The book's designers reference key artists, including Alexander Calder, Joan Miro, Eduardo Paolozzi and Robert Rauschenberg, as well as graphic designers of the 1950s and '60s.
Design duo David Goodman and Zoe Miller are the originators of three best-selling Tate Publishing children's books: "A is for Artist", and "Colour and Shape".
Like its predecessors, "Faces" bears the hallmark of their distinctive and original graphic style, captivating all who encounter it.
Free Home Delivery
on all orders
Pick up orders
from local bookshops
Reviews
Showing 1 - 1 of 1 reviews.
Review by jessicaschmidt917
16/06/2015
Faces takes the "what do you see in that cloud?" game to a whole new level by imagining faces out of hundreds of everyday objects and materials. Illustrations are the star here, with the text almost an afterthought, printed in smaller font and positioned unobtrusively around or in the pictures. Most of the illustrations are full-page, close-up photographs of objects rearranged into faces-- rope, stacks of mail, collages of paper scraps, tools, rocks, wood carvings, kitchen utensils-- and sprinkled with pops of color. The photo illustration and collage format have a 3D feel to them, inviting readers to touch every page. Some pages have flaps, holes, textured pieces, or are made of vellum, and others are designed specifically for the reader to turn the book upside down. This style easily allows for group reading with several children clustered around the book. Preschoolers through early elementary will be enthralled-- and so will adults. Strongly recommended, especially for art lovers.