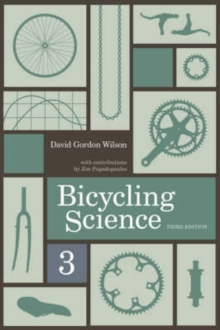 Bicycling Science
Paperback
Description
The bicycle is almost unique among human-powered machines in that it uses human muscles in a near-optimum way.
This new edition of the bible of bicycle builders and bicyclists provides just about everything you could want to know about the history of bicycles, how human beings propel them, what makes them go faster, and what keeps them from going even faster.
The scientific and engineering information is of interest not only to designers and builders of bicycles and other human-powered vehicles but also to competitive cyclists, bicycle commuters, and recreational cyclists.The third edition begins with a brief history of bicycles and bicycling that demolishes many widespread myths.
This edition includes information on recent experiments and achievements in human-powered transportation, including the "ultimate human- powered vehicle," in which a supine rider in a streamlined enclosure steers by looking at a television screen connected to a small camera in the nose, reaching speeds of around 80 miles per hour.
It contains completely new chapters on aerodynamics, unusual human-powered machines for use on land and in water and air, human physiology, and the future of bicycling.
This edition also provides updated information on rolling drag, transmission of power from rider to wheels, braking, heat management, steering and stability, power and speed, and materials.
It contains many new illustrations.
Information
Format: Paperback
Pages: 485 pages
Publisher: MIT Press Ltd
Publication Date: 19/03/2004
Category: Popular science
ISBN: 9780262731546
Free Home Delivery
on all orders
Pick up orders
from local bookshops
Reviews
Showing 1 - 1 of 1 reviews.
Review by kukulaj
16/06/2015
I bought the first edition of this book many years ago but it just sat on the shelf - I never got around to it. That doesn't say anything about the book - I just buy a lot more books than I read! My interest in bicycles comes and goes - recently it has been in the high level phase. Most folks I talk with have picked up on this - I don't make it too easy to ignore! My brother bought me this third edition recently so I decided, now that I own two editions, I really ought to read it!Right away the author tells us that this third edition is very different than the first edition, and even than the second. From time to time in the body of the text the differences are outlined. It turns out, even if you have the first edition, the third edition is worth owning too!This book is quite a remarkable scientific and engineering romp. Much of the mechanics of bicycling is covered: efficiency, durability, handling. The general direction tends more toward racing and not so much touring. But still the discussion is very wide ranging. The discussion is also a bit more science oriented than practical experience oriented. That probably fits with the racing angle, or setting speed records. Such competitive cycling happens under more controlled conditions, like a scientific experiment. There wasn't much discussion of riding in traffic or of headlight, or luggage. The little about clothing was mostly about wind resistance and also cooling. There is quite a bit here about experimental cycles and also other types of human powered machines, especially human powered vehicles. The author seems to have been involved for many years in the human powered vehicle arena. There is a lot in here about recumbants with farings and the high speeds possible with these. There is quite a bit of math in this book. Not really any proofs and just a few short derivations, but still, if complicated formulas put you off, be forewarned, they're in here! But mostly you can just skip them and still get most of what's going on. There is a good chapter here on exercise physiology & the different stores of energy in the body and the pathways from stores to muscle power output. This is a very down-to-earth book, well grounded in experience and experiment. It doesn't dive too deep into folklore. It's a bit more in the direction of trying to use measurement and analysis to sift through the folklore to see what really makes sense and what deserves to be discarded.