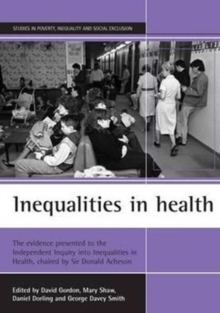 Inequalities in health : The evidence presented to the Independent Inquiry into Inequalities in Health, chaired by Sir Donald Acheson
Paperback / softback
Description
The Acheson Inquiry was the most important government-backed examination into inequalities in health in the past 20 years.
However, much of the detailed evidence presented to the Inquiry has not been published - until now. This book presents 17 chapters of evidence commissioned by the Acheson Inquiry to inform their work.
It provides a 'state of the art' review, by leading experts, into aspects of inequalities in health among:Mothers/families/childrenYouthAdults of working ageOlder peopleHousingSocial environmentPoverty and incomeThe NHSNutritionEducationAreasEthnicityTransport/pollution/material environmentGenderMental healthHealth-related behavioursOral health* Inequalities in health: The evidence is important reading for academics in the social and medical sciences, students, medical professionals and people working within the fields of health and community care. Studies in poverty, inequality and social exclusion seriesSeries Editor: David Gordon, Director, Townsend Centre for International Poverty Research. Poverty, inequality and social exclusion remain the most fundamental problems that humanity faces in the 21st century.
This exciting series, published in association with the Townsend Centre for International Poverty Research at the University of Bristol, aims to make cutting-edge poverty related research more widely available.
For other titles in this series, please follow the series link from the main catalogue page.
Information
Format: Paperback / softback
Pages: 288 pages, No
Publisher: Policy Press
Publication Date: 01/10/1999
Category: Social issues & processes
ISBN: 9781861341747